Our cyber security student success stories
Devang Bheda, aged 30
Reason for enrolling:
Devang spent most of his career working within the Finance sector. After working as a Credit Assessor, he felt like he was stuck and had peaked with his current company. He always had a passion for IT and knew he wanted to get into Cyber Security.
Devang was nervous about taking a chance and changing his career as this is extremely uncommon where he is originally from. After speaking with one of our Senior Career Consultants Adam he knew now was the time. Devang was excited to jump into the training and finally make the change in his career.
StudentCareTM
StudentCareTM were immediately impressed with Devang's training. He made great progress on the first certification. Even when he felt he was not moving quick enough, StudentCareTM were able to reassure him and keep him on track.
After being made redundant from his role, Devang was extremely stressed and nervous and found it hard to keep on track with his study. StudentCareTM ensured that he focused and made accommodations to support him while he found a new role.
Career Services
Devang was extremely eager to start working with Career Services. He was nervous about this part of the process and his lack of industry experience. Tabatha from Career Services consistently reassured him. He had consultations around his CV, LinkedIn and how to network in the industry. After a lot of encouragement, Devang worked hard to grow his connections and become visible on the platform.
Career Services coached him through interview preparation to ensure he was prepared and felt confident having these conversations. Every time Devang doubted himself, we were able to encourage him and remind him he had excellent experience and after completing the certifications, he had the right practical/technical skills to do the role. We are extremely proud to say, Devang has been offered a role as a SOC Analyst for a large international Security Software and Hardware company where he will be working remotely.
The results
Obtained employment as a SOC Analyst at Sophos
Devang says:
"I have felt greatly supported by career services, especially by Tabatha. The journey hasn't been smooth to transition my career but Tabatha has been in touch and helped navigate the competitive market to secure my first role in cybersecurity. The whole team has been extremely helpful and instrumental to my success."
Tina Gray, aged 50
Reason for enrolling:
Tina enrolled with us in the Certified Ethical Hacker collection. She had been at home for 10 years, caring for her family, and wanted to get back into the workforce. Tina had previously worked in medical administration, but wanted to try something new. She was bored, really, and itching for a new career, and cyber security appealed to her. She also wanted to work remotely so that she could have a healthy balance of a satisfying career and time with her family.
StudentCareTM
Tina was a nervous student to begin with, but weekly calls and accountability check-ins with StudentCareTM really helped her studies take off. StudentCareTM helped fill in any knowledge gaps she stumbled across. By following the training materials carefully, making use of the support we provide, and doing her own research, Tina was able to pace herself and obtain her core certifications. By the time she had achieved the Security+, she was absolutely flying. Her confidence and sheer determination combined with 1-to-1 support from StudentCareTM got her where she wanted to be. Tina was a total pleasure to work with and we are so proud of her success.
Career Services
Tina wanted to complete her training prior to looking for work, so started working with Career Services 5 weeks ago. Since then, Tina has updated her CV and embraced LinkedIn and other social media platforms to get connected with her peers and future employers within cyber security. Tina secured two interviews and was offered both jobs. During the process, she had to prepare for a complex interview but was also asked to conduct a scenario report as part of her testing. In the end, Tina accepted a Cyber Security Analyst role with Interactive where she can work remotely.
The results
Obtained employment as a Cyber Security Analyst at Interactive
Tina says:
"Being a more 'mature' woman, it was daunting to consider re-entering the workforce, but the ladies at Learning People were so helpful with this. It only took a quick phone call with Julia to convince me that I could do this, and over the period of my study, she and Laura in StudentCareTM have supported me every step of the way. To date, I have passed CompTIA 220-1001, 220-1002, Network+ and Security+, Pen Test+ and the Certified Ethical Hacker – FIRST TIME, EVERY TIME! If you're considering reskilling, this is a GOOD option. I recommend Learning People to help with YOUR journey."
Bradley Steinbach, aged 26
Reason for enrolling:
Bradley enrolled with Learning People in February 2021. After working in real estate for 6 years, he was looking for a change. Bradley always had a passion for tech and had been thinking about getting certified for a while. He did some research and came across Learning People.
After speaking with Conor, one of our Senior Career Consultants, he knew this was the right decision for him and was excited to jump onboard.
StudentCareTM
Bradley began working with StudentCare™ straight away – he was extremely motivated and a great student to support. StudentCare™ kept Bradley on track and helped him juggle studying with working full-time and his family commitments. Thanks to his own dedication and consistent encouragement from our StudentCare™ team, Bradley was able to complete his certifications within the time frames he set out for himself.
Career Services
Bradley was new to cyber security, so Career Services got started with him straight away. They consulted with him on his CV and LinkedIn profile, and got him started with networking and growing his digital presence.
He connected with the right people and was able to find a role that combines his real estate experience with his cyber certifications. Bradley now has a role as a Cyber Security Customer Relationship and Business Development Manager.
Bradley says:
"Browsing the internet trying to find suitable courses and certifications to transition to cyber security can be very exhausting and overwhelming. I am so happy that I came across Learning People for my training and certifications in cyber security.
I felt like Conor, the Career Consultant, listened to what I was saying and built a course around what he felt I would succeed at and be interested in. They also were extremely attentive to my needs, and as someone who makes decisions quickly, this was a huge plus! I felt like my StudentCare™ Consultant wasn't too pushy and always tried to support me.
I cannot speak highly enough about the course content and web platform that I have been provided. Many online learning platforms for CompTIA certifications can offer great videos and learning resources, but where Learning People excels is in the virtual labs. These labs give so much practical, hands-on exposure to the learning concepts. A lot of people comment that the Security+ content is too high-level and not practical enough, but with Learning People's labs I have had the opportunity to hack with Kali Linux, create my own malware, and infect Windows systems in real time! Since I have started my journey, I have now added on additional courses and certifications to keep improving. As someone who has used a number of other free online resources, the value is demonstrated in the practice labs and exams from Learning People.
There is a huge added value of having constant support from the Career Services team. Free online platforms don't offer the 1-on-1 tailored service that you get with Learning People. I always feel like I am supported with learning and building my career profile within cyber security. Learning People even helped me prepare my LinkedIn profile for maximum exposure which ultimately landed me my first job in the industry. This is really seamless customer experience from start to finish and I am certainly an advocate for their highly modern and effective services."
Ashley Wicks, aged 36
Reason for enrolling:
Ashley enrolled with the Learning People in August of 2020. She was originally working in Electronics but wanted a career change where she was able to have job security while also making use of her transferable skills. Ashley was always drawn to the idea of working in tech and had dabbled in Cisco training previously as well as coding, but after speaking with her Senior Career Consultant Chris she decided to take the plunge into cyber security.
StudentCareTM
Ashley has worked incredibly hard to pass her certifications. Her dedication and perseverance have impressed all in StudentCareTM. Ashley has balanced study with full time work incredibly well. She took advantage of StudentCareTM for support with exam preparation and strategies around study planning and time management.
Career Services
Shortly after enrolling, Ashley started working with Career Services in September 2020. As per our process, we initially started reviewing Ashley's CV and LinkedIn profile and provided recommendations for change. Ashley took on board our advice and started networking on LinkedIn, applying for roles on job boards and started talking to current students who had previously found employment to see if they could also help with any industry advice. She succeeded in gaining a role as a Cyber Security Analyst at Culture Amp in February 2021.
The results
Obtained employment at Culture Amp as a Cyber Security Analyst
Ashley says:
"I cannot recommend the Learning People enough! Their course materials and their service have been unreal from the start. From day one I felt supported and guided genuinely by StudentcareTM who went above and beyond to assist me. The support from Career Services was essential to how I got my first job in Cyber Security. Transitioning into Cyber Security wouldn't have been this smooth if not for them, I was pointed in the right direction, given the right resources, and I was up-skilled in just 6 months and then hired! Thank you Learning People I am immensely grateful!"
Liam Wilkinson, aged 26
Reason for enrolling:
When Liam started talking to Learning People, he was working as a Technician doing Cinema Servicing. He had already conducted a lot of self-training in all areas of IT, including coding and networking, but after speaking with us he realised that he wanted to pursue a career in Cyber Security and needed a structured course with great support.
StudentCareTM
Liam was always such an incredibly positive and motivated student. Liam worked with StudentCareTM on a weekly basis to begin with but then once he was underway, we touched base every few weeks. Liam worked tirelessly and really focussed on exam preparation with the support of his StudentCareTM consultant Mikayla. Liam followed all guidance and direction and was an absolute pleasure to work with.
Career Services
Liam waited until he had completed most of his certifications prior to working with Career Services. Liam was extremely open to taking on our advice and we were able to draw out more technical skills on his work experience to showcase necessary skills. He also embraced LinkedIn and enthusiastically networked with business and industry experts and successfully secured interviews for himself. Liam and Career Services worked closely preparing for interviews, and he got the offer he was hoping for. He is now working as a Security Consultant for CyberCX.
The results
Obtained employment at CyberCX as a Security Consultant
Liam says:
"The Learning People have changed my life. In the span of a year I was able to upskill and gain the knowledge required to pursue my dream career. I can't describe my experience with Learning People as anything other than positive, their student support team were always dedicated to helping me achieve my goals and the learning material was up to date and well structured. I would highly recommend The Learning People for anyone looking to pursue their dreams."
Tarun Kurudi, aged 27
Reason for enrolling:
Tarun enrolled with Learning People in January of 2020. After working as a chef for 6 years and feeling unsatisfied and underpaid, he felt it was time to make a career change.
Tarun already had an interest in IT and coding. He had completed a 4 month Boot Camp in coding languages with a different provider but felt he still didn't have the necessary skills to get in to a role in IT. He felt rushed and that there was no support at the end of the Boot Camp. Tarun got in touch with Learning People and never looked back.
StudentCareTM
Tarun wanted to work through his certifications as quickly as possible. StudentCareTM began working with Tarun and scheduled regular check ins to ensure he was on track. StudentCareTM got an understanding of the amount of time Tarun was able to put in each week. They then worked with him to ensure he was able to successfully put aside the time for his training. He loved working with StudentCareTM and found the support extremely helpful.
Career Services
Tarun utilised all the support Career Services offered him. Due to the fact he was changing industries, he wanted advice around ways of making himself look professional and standing out in the industry. Career Services consulted Tarun on his CV andLinkedIn and gave him advice on where to start when applying for potential jobs. Tarun has now successfully gained a role as a Support Analyst.
The results
Obtained a role as a Security Support Analyst for ACC NZ
Tarun says:
"When I first enrolled I felt nervous for a change but also excited to move my life in the right direction. I enjoyed the course and content and have found it very relevant to my current job. Virtual labs were also great. The Student Care support was amazing when I needed it, they were prompt and helpful. Career Services were very to the point which was great for me, they helped a lot with my CV and helped me get focused on where to start and what to do every day while I job hunted, and helped me to get in to my new job."
Yansen Leonard, aged 38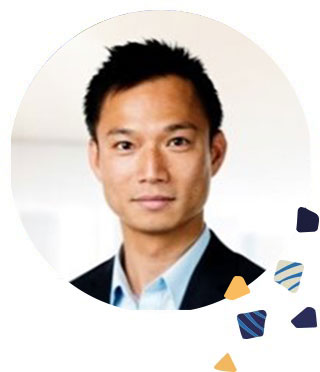 Reason for enrolling:
Yansen was already working within the tech industry when he enrolled with Learning People. He was looking to increase his employability and to find a stable career. Cyber security was the ideal career pathway to help him achieve this.
StudentcareTM
Yansen responded incredibly well to learning online. He studied consistently and worked hard to pass his certifications.
David from our StudentCareTM team ensured Yansen remained supported throughout his studies and assisted him with all examination bookings.
Career Services
Driven by his career goals, Yansen reached out to the Career Services team. He was already working as an IT Specialist but knew that the stability of the cyber security industry was what he was aiming for.
Career Services were able to quickly restructure his CV to add more detail and display his experience in a more marketable way. Following the team's advice, Yansen utilised LinkedIn. He compiled a list of 50 relevant industry contacts to reach out to and start networking with. He secured an interview at Australia Post and landed the role. Yansen is now working as a Senior Project Manager within cyber security.
The results
Secured role at Australia Post as a Senior Project Manager (cyber security sector)
Yansen says:
"Learning People took the time to understand my current situation, and they were able to tailor the certification path accordingly.
Throughout the journey, I received continuous support from the administrative perspective and course perspective by utilising the "ask mentor" function within the learning platform."
Andrew Sims, aged
57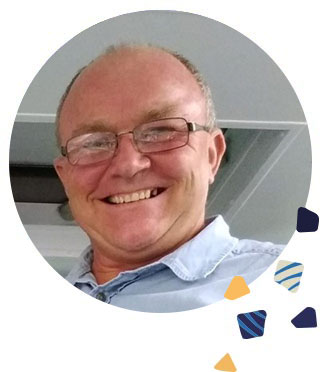 Reason for enrolling
4 years before Andrew enrolled with us, he had suffered from a nasty car incident and needed to redirect his career. He wanted to focus on a career where he could help people and have stability in his employment, so he chose to train in cyber security.
StudentcareTM
Andrew was incredibly nervous when he began his online training. Our StudentCareTM team offered the support he needed to improve his confidence. Andrew received calls every few days to allow him to lean on StudentCareTM and our team of expert mentors.
StudentCareTM delivered extensive support with revision and exam prep to ensure Andrew was at the top of his game.
"It has been amazing to see Andrew come from strength to strength over the last 11 months. He is thriving and living a life he never thought possible." – StudentCareTM
Career Services
After gaining 3 CompTIA certifications, Andrew started working with our Career Services. The team offered advice to update his CV and helped him to highlight his career move from sales and manufacturing into cyber security.
With personalised interview preps and careers support, Andrew successfully gained a role in August 2020 with Quadnet as a Technical Support Analyst.
The results
Secured employment at Quadnet as a Technical Support Analyst
Andrew says:
"I was at a time in my life where I was not sure where I was heading as I had had a major car accident that changed my life forever. I saw an advert on Facebook for a course in Cyber Security so I replied.
I couldn't have been more impressed. Once I had explained my situation the support that I got was second to none. So I decided to study the course and I have not regretted it for a second"
David Fyvie, aged
24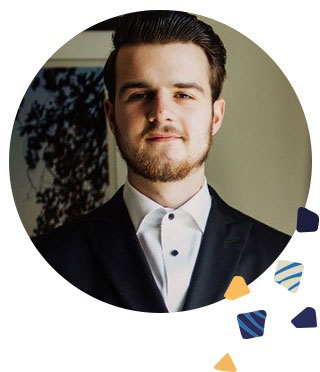 Reason for enrolling:
David had completed a degree in theology and always had an interest in technology. He didn't know how to get into the tech industry in Australia, so he enquired with Learning People.
StudentCareTM
David worked well with Mikayla from our StudentCareTM team and he successfully passed all his examinations on his first attempt. David utilised StudentCareTM for accountability calls and a study plan, and made fantastic use of all of the resources presented to him – we are incredibly proud of his achievements.
Career Services
David was working in traffic management and was keen for a career change into the tech industry. He started working with our Career Services team in June 2020 where they worked on his CV to display his eagerness to gain a role within IT. The team ensured he presented his certification training and the technical skills he gained through Practice Labs effectively to employers.
David also followed Career Services' guidance on using LinkedIn to network within the industry, particularly with recruiters and professionals. David took onboard all the advice given to him from the Career Services team and was successful in gaining a role with Telstra as a Network Operations Technical Support.
The results
Secured employment at Telstra as a Network Operations Technical Support
David says:
"I have had amazing help from the Australian branch of Learning People. They have helped me through some of the hard decisions I needed to make while encouraging me and pushing me to finish the course on time and gain a job in the industry. Great service!"
Joe Roussety, aged
41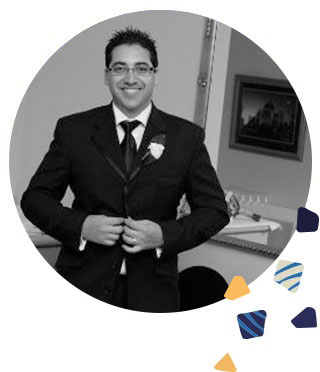 Reason for enrolling:
Joe had been working as a Network Engineer for a number of years and was unfortunately made redundant due to COVID-19. He saw this as an opportunity to re-train into cyber security and is now upskilling with the required industry certifications, including CompTIA, EC Council and ISACA.
StudentCareTM
Joe is a dedicated and hardworking student and always engages well with StudentCareTM. Joe passed his exams first time and responded well to all guidance and support offered. In the early stages of Joe's enrolment, StudentcareTM offered support with a study plan and helped Joe to work out what his weekly study schedule looked like.
Career Services
Joe started working with Career Services immediately as he was wanting to gain employment as soon as possible. Initially, Career Services reviewed his CV and ensured that all of his training was listed by 'achieved' and 'yet to be achieved', and then he started applying for jobs.
Joe networked a lot with the relevant recruitment agencies and was quickly sought after in the market. He gained 4 interviews over a 2 week period. The Career Services team spent a lot of time going through interview preparation with Joe. This included exploring the types of questions that might be asked and reviewing job descriptions.
The results
Secured employment at Tech Mahindra as a Network Engineer
Joe says:
"I have completed 2 cyber security certifications, at a very fast pace, that I never thought I'd be able to complete. The program is very well structured to assist you in getting it done, they have assigned people to help me in my roadmap and right now I am very happy with my results and what I have achieved.
Career Services helped me prepare for a new position which I am very happy with while I am in pursuit of my next security certifications. Words can't explain how I feel right now with how Learning People have helped me to get me where I am today. I am excited for my future now"
James Rudd, aged 25
Reason for enrolling:
James enrolled with us in December 2019. At the time he was working within the building industry, but he had always wanted to pursue a career in cyber security.
StudentCareTM
James trained efficiently while working full time and was keen to learn. Setting up a study plan that worked meant he completed his first two cyber security qualifications quickly. We are incredibly proud of his success.
Career Services
In February, James contacted us and at that stage he thought he might like to relocate to Brisbane or Sydney. He then changed his plan when COVID-19 hit and he remained in Newcastle. James was a model student and listened to all advice from the team. We worked with James on his CV and helped set up his profile on LinkedIn. James was coached how to network in the market by using LinkedIn and how to register with the right recruitment agencies. He took all the advice on board and was subsequently interviewed over Skype, securing his first cyber security role within only a few months of enrolling.
The results
James says:
"I also wanted to take the opportunity to thank each of you for your support these last 12 months. Deciding to go with Learning People to achieve these starting cyber security certificates has been one of my best decisions to date and I will certainly be looking to come back in the future."
Corey Morrissey
Reason for enrolling:
Corey had been working as a plumber for nearly 8 years and wanted a fresh challenge that the tech industry could offer him.
As a tradesman he was apprehensive but motivated for the career change.
StudentCareTM
Corey enrolled as a complete beginner and had no previous IT experience. He maintained an enviable work ethic throughout his student journey. StudentCareTM provided him with a study plan that worked alongside his full-time job and further support with time management.
StudentCareTM then continued to assist Corey, with regular check-in calls. He received some additional support with exam preparation and once he was ready, he passed multiple certifications, first time.
Career Services
The Career Services team offered Corey the support he needed to land his first tech role. He learnt how to network effectively and how to stand out to potential employers and recruiters. The team helped Corey to prepare for interviews and his hard work paid off.
The results
CompTIA Network+
CompTIA Security+
CCNA
Microsoft Security Fundamentals
Secured new role as a Global Cyber Security Governance Analyst at QBE
Corey says:
"In my past career as a commercial/domestic plumber, every day I improved the quality of life for hundreds of working class people. That was simply not enough for me, I wanted to protect thousands of people from hackers and cyber-attacks.
"Learning People have gone above and beyond to support me in achieving my goals. I now have my dream job in tech and would recommend Learning People time and time again. They are life changers."
Riekert Jansen Van Rensburg
Reason for enrolling:
Riekert had been working in different sales positions for the last 10 years, but was desperately unhappy. He had always wanted to work within the tech industry but was unsure how to make the first steps.
Riekert reached out to us and, after a detailed consultation with one of our Senior Career Consultants, enrolled onto our Cyber Security Analyst collection.
StudentCareTM
Riekert was a complete beginner when it came to digital skills. After the first few sessions with StudentCareTM Riekert slowly started to realise his potential.
The team provided weekly 1 to 1 study sessions to motivate Reikert to success. The sessions included support with a study plan and time management. Gaining the practical skills through our live practice labs, Reikert quickly gained the technical skills required to work in the industry and validated these skills internationally with his certifications.
Career Services
Career Services offered Riekert support in boosting his employability. With the help of the team, he learnt how to build a network using LinkedIn and how to work with recruitment agencies.
Riekert's work with Career Services ensured his globally recognised certifications were visible to hiring managers and recruiters. This led to incredible career opportunities with employers expressing how impressed they were with his level of technical skill and quickly offering him more responsibility within the tech sector.
The results
CompTIA A+
CompTIA Network+
CompTIA Security+
CompTIA PenTest+
Secured new position in Network Support at Houston Technology
Riekert says:
"Now I am working in the industry it is awesome to wake up every morning and be excited for what I do in life for a job. Learning People has been awesome through every step of my journey.
"I never used to like studying, I actually hated it with a passion until I came to the Learning People where their support has been so amazing. I feel so enriched with what I have learnt that I will now always keep studying, and gaining higher level vendor certifications to advance my career.
"Thank you Learning People, you have been amazing"
You can hear more from Riekert in his video testimonial below:
Kit Alexander
Reason for enrolling:
Kit unfortunately lost his job during the pandemic as a Pilot for Virgin Airways, an industry he had been in for 15 years. He was faced with a very difficult decision to either wait out the pandemic or re-skill into a new career. He spoke with one of our Senior Career Consultants Tessa, who advised him on a career in Cyber Security that would provide him with stability and eventually a comparable salary to his past role as a Pilot.
StudentCareTM
Kit began working extremely hard on his certifications from the start. He engaged with the StudentCareTM team and used their services to ensure he could complete his studies promptly. Kit showed dedication and perseverance which allowed him to work through his international certifications quickly. StudentCareTM offered him guidance throughout this process and helped Kit with anything he needed.
Career Services
Kit started working with Career Services when he had completed his first few international certifications. He was still quite nervous about the change to his career even at this stage and was second-guessing if it would work. Career Services helped him with his CV and LinkedIn profile but also taught him how to network, and more importantly, interview coaching when the time arose. He had some delays along the way with changes of start dates to his role due to COVID-19, however, persevered and ultimately succeeded by securing a Cyber Security Advisor role with Datacom.
The results
CompTIA Network +

CompTIA Security +

CompTIA Cybersecurity Analyst +

CISM (Certified Information Security Manager)

Obtained a role as a Cyber Security Advisor – Datacom
Kit says:
"With the outbreak of Covid, I found myself out of what I thought was a life-long career as an airline pilot. After much soul-searching and many conversations about my future, I found myself talking to Tessa from Learning People.
We had a few conversations and then came up with a plan to train for a new direction in my life but also emphasize and build on my strengths. I moved into training for a new job in Cyber Security, and after passing a few certifications I began to have a chat with the team in Career Services.
Julia helped me put my new certifications alongside my other marketable skills into a presentable and honest package for potential employers. Julia and the team helped me refine my CV to make it stand out to employers and had a lot of great advice. With their help, and my skill set, I was able to secure a job, as a Cyber Security Advisor with an excellent company in Christchurch, where I have huge career potential going forward. The whole team at Learning People has helped me achieve a huge life change and has been awesome in their support along the way."
Nathan Jarvie, Age 33
Reason for enrolling:
Nathan had been working in Administration and Help Desk roles and really wanting to take the step into Cyber Security. After completing a Diploma and still struggling to find work in the area as his qualification was more theory-based, he did some research and found Learning People. After having a discussion with one of our Senior Career Consultants and viewing the platform in a demonstration, he was excited to get enrolled.
StudentCareTM
StudentCareTM engaged with Nathan straight away. He was always extremely thankful for their help and found it very beneficial.
He flew through his first few vendor certification exams, utilizing the training platform and live labs.StudentCareTM found Nathan great to work with, he was extremely motivated. He had to juggle his training with a young family and a full-time job, so StudentCareTM put a study plan in place for him to ensure that he could manage this and stay on track to complete all his international certifications.
Career Services
As Nathan had been looking for a new role for some time with no success, he was excited for this part of the process. Career Services began working with Nathan and gave him advice around his CV and LinkedIn profile. They gave him advice on how to make specific and relevant industry connections to ensure he was seen by the right people. Thanks to the help from Career Services as well as Nathan's dedication and commitment, he was able to secure a role as a Junior Pentester.
The results:
CompTIA Network +

CompTIA Security +

CompTIA Cybersecurity Analyst +

CompTIA Project +

Certified Ethical Hacker

Obtained a role as an

Associate Security Consultant (Junior Pentester) at Volkis.
Nathan says:
"Enrolling was straightforward and the team were wonderful. I was very excited to get started and powered through my first few modules. The course materials and labs were good. I found I had access to the textbooks and references I needed to complete the modules I attempted. I did not need to use any exam retakes which I think is a testament to the courses themselves. The StudentCareTM team was wonderful. Any time I had an issue or a question they were quick to respond and happy to assist. I thank them for their hard work.

I started working with Julia from Career Services after finishing the first couple of certifications. She took time to understand my position and that I did not have a lot of spare time. She gave me advice that was direct and concise and most importantly prioritised. I was able to take that advice and make relevant changes to my resume, slowly make the changes to my LinkedIn and start making the appropriate connections. Julia was extremely helpful. All credit to her."
Michiya Nagai, Age 27
Reason for enrolling:
Michiya enrolled with Learning People on the Cyber Security Professional course collection in April 2021. He ran his own company in the music industry. After having a strong presence online, he realized how valuable cyber security was. Michiya was extremely interested in this industry and wanted to start a career in it. He knew he needed formal certifications to make this possible, so he got in touch with Learning People.
StudentCareTM
Michiya was an excellent student, he was able to work through his first few certifications efficiently. Michiya loved the support from StudentCareTM, he was always receptive to their help and made sure he engaged with them on a regular basis. He wanted to complete his certifications quickly and found this contact extremely helpful. David in ourStudentCareTM team continuously support Michiya and assisted him with all examination bookings.
Career Services
Michiya began working with Career Services after finishing off his first two certifications. Since Michiya was completely new to the industry, he wanted help tailoring his CV to cyber security. Career Services worked with Michiya to adjust his CV, highlighting transferable skills from his previous industry. They also consulted him on his LinkedIn profile and helped him network with the right people. We are thrilled to say due to Michiya's new networking skills he got an interview with Grant Thornton and has now obtained a new role as a Risk Consultant in the cyber security team.
The results:
CompTIA Network+

CompTIA Security+

CompTIA Cyber Security Analyst+

CompTIA PenTest+

New role: Risk Consultant (Cyber Security) – Deloitte
Michiya says:
"It's been an absolute pleasure learning with Learning People! Duncan provided an easy-to-follow, step-by-step program and the team genuinely cares about your progress. David from StudentCareTM supported me throughout my journey and helped me progress at the pace I wanted. Tabatha, my Career Services Consultant also went above and beyond to help me to get to where I needed to be."
We are so proud of the work both of these students put in. If you're looking for a career change you can find out more by getting in touch and one of our expert career consultants will give you a call back.
We're really excited for the next generation of students as they navigate the world of tech. Discover more about a career in cyber security, and feel free to arrange a consultation call with one of our experts today to find out how you can start.