Lluis Mioche Grases, age 30
Reason for enrolling
Lluis had a background in coding when he lived in Spain. After coming to Australia and spending two years travelling around the country, he wanted to get into the industry here. Lluis had done various roles in farming and hospitality since being here, but coding was his passion and he wanted to find a way of doing it in Australia. Lluis then inquired with the Learning People to see what training options were out there. Robin, one of our Senior Career Consultants got an understanding of his goals and what the best option was for him. Lluis had only had experience in front-end development, he needed to validate his skills here in Australia as well as up-skill and learn back-end languages in order to achieve his goal of becoming a Full-Stack Developer. Another one of his goals was to get sponsored and eventually get residency so he could stay in Australia long-term. This meant it was important to gain a role with a company that could offer him that.
StudentCareTM
Lluis got taken through an Orientation of the platform after enrolling, he felt confident and was excited to get started. Lluis got stuck in and made excellent progress in the training, he liked that he was able to get support from his StudentCare Consultant whenever he had questions. He was also grateful for the mentor support which meant he had access to industry experts if he had questions about the content of the training.
Career Services
Lluis wanted to start working with Career Services straight away, he was excited for this service as he felt he needed help to get a foot in the door with the Australian job market. Tabatha from our Career Services team discussed his goals and made a plan to make them happen. They did a CV consultation and helped to make sure his previous international experience as well as new skills would be received well in the industry. Tabatha then helped him to update his LinkedIn profile and discussed how to network within his local market. Lluis loved this support as he had found it challenging not knowing anyone and being visible. Lluis had been trying on his own for some time with no luck, he was thrilled when he managed to secure an interview only 2 months after enrolling. Tabatha and Lluis did interview preparation for this, and he got the role! Lluis is now working as a Full Stack Developer and is able to stay in Australia and continue to follow his passion and work within this exciting sector.
The results
Lluis says:
"When I first enrolled I felt excited. It was the start of a "new journey", I was excited about studying again to get a good job. One of my goals was finding a role in coding and be able to stay here in Australia. I was nervous about that being a possibility but after talking to Robin and Tabatha I felt confident. I found the support from StudentCare absolutely great. They were always there when I had questions. Working with Career Services was excellent as well. The advice was amazing, I have always felt supported and helped by Tabatha."
Markuss Cowburn, age 15
Reason for enrolling
Markuss enrolled with Learning People in October 2020.  His mother had been looking into some training options to go alongside his home schooling. Markuss always had an interest in Coding and Development and had already done some of his own learning online. After seeing how passionate he was about it, Markuss's mother wanted to encourage him and help to get him some certifications that would benefit him down the track, and build a portfolio of work. They wanted something with more structure than what Markus had been doing online, while still having the flexibility to train whenever he wanted around school. He also lived rurally so online learning was perfect for him. They did not really know where to start, but after speaking with Tyler, one of our Senior Career Consultants, they knew this the right option for Markuss.
StudentCareTM
Markuss started working with StudentCareTM straight away. He was really excited and loved the fact that he could fit the training in around his schooling. StudentCare were able to book regular calls at times that worked best for him. It was important to ensure his learning was flexible while still having a structure he could stick to. Markuss flew through the training and was able to achieve great results. StudentCare made sure to tailor their support to whatever he needed and ensure that the content continued to be challenging enough for him.
Career Services
Markuss started working with Career Services about 6 months after enrolling. He wanted to prioritise the training initially to ensure he had a good understanding and felt comfortable with the prospect of working. Tabatha, one of our Career Services Consultants, had an initial consultation with Markuss and his Mum to discuss what the support might look like for him and what their goals were. It was important to adapt the service to fit what suited them due to Markuss being so young. They started by creating a CV for Markuss. His goal was to get work experience initially, however he needed to be able to work remotely because of his location. Tabatha helped Markuss to set up a LinkedIn profile and they worked on getting him connected with people in the industry. They spent a lot of time on this as Markuss was quite nervous about putting himself out there. After working with Career Services on this, Markuss gained confidence and felt like he could put himself in front of potential employers and find a role. We are thrilled to say Markuss ended up gaining a paid role as a Software Developer, working 20 hours per week. The role is for an international company working remotely and he can choose his own hours. This was an amazing outcome for Markuss at such a young age and we are excited to see what he can do in the future.
The results
Markuss says:
"I was happily surprised with getting this new job. The platform was great and the support from Student Care was great. Calls were consistent and everyone was just lovely. I had amazing support from Tabatha in the Career Services team. It was greatly appreciated and helped me a lot in looking for a job. She helped me feel confident and apply for roles that I never thought I could do. I never could have done this without the great support of the Learning People team, thanks to everyone!"
Navjot Kaur, age 30
Reason for enrolling
Navjot enrolled with Learning People in July 2020. After having worked in India as a Developer, Navjot came to New Zealand and worked in a range of roles both in IT and in other sectors. After starting a family, she was struggling to find a role in Development. She kept getting rejected even though she felt she had good experience. This is when Navjot engaged with Learning People. She spoke with Neil, one of our Senior Career Consultants and got advice around how to best validate her experience and upskill.
StudentCareTM
Navjot utilised StudentCareTM support immediately. She had regular catch ups initially to ensure she was getting used to the platform and managing her study well. Navjot enjoyed the content and got through her courses at a great pace. Navjot had a young family during the time of her study, so had to manage and prioritise her training when she had the time. StudentCareTM supported her with this and helped schedule a study plan that worked for her.
Career Services
Navjot wanted to work with Career Services early on, she had excellent transferable skills and wanted help with marketing herself to successfully gain a development role. Career Services helped Navjot with her CV, LinkedIn and advised on ways of networking with potential employers. They helped her to get connected with agencies and ensured she felt confident when connecting with people hiring in the industry. Navjot has now successfully gained a role as a PHP Developer and couldn't be happier.
The results
Navjot says:
"I was trying hard to get back in web development after I had my baby. But it was 6 months and after applying for so long I was not getting a good response and then I saw a Learning People advert on Facebook and registered from there. I had experience but still I did not know why I was getting so many rejections. I thought let's update my knowledge to increase my chances of landing a job. The course material was thorough enough that I passed my certifications in one go. And whenever I had any queries, I asked the mentor who always replied on time. Any issue I faced I called StudentCareTM and they always get back to me at the same time. I bothered them a lot for booking my exam or any login query or any small issue but they were really helpful. Career Services guided me to update my CV and Linked in profile which helped me connect with more people and explore options to get a job. Finally I landed in my dream job which is a Senior PHP Developer. I can't thank the Learning People enough"
Casey Scott, age 32
Reason for enrolling
After working in construction for 12 years, Casey was ready for a change. He had a strong interest in coding and had already done some entry level study. He wanted to take the next step and train in Full Stack Development.
Career Services
Casey engaged in Career Services and had help with his CV, Cover Letter and LinkedIn. He had a consultation on different ways to market with potential employers. Casey had concerns as he lived in a small town and was nervous about getting work in this area. He was encouraged to engage in local events and join groups on LinkedIn and in the community. Casey is now proud to say that he gained his first role as a Junior Software Developer.
The results
Casey says:
"The course material was taught in a way that someone as myself with very little previous knowledge could learn and start piecing things together immediately. Careers Services helped me set up a LinkedIn account and write up a new CV and cover story. While on the course and after finishing I attended every local event and travelled to participate in hackathons and start up events. I got my first job as a Junior Software Developer after completing my course."
Many of our coding students want a change of career into something more lucrative, flexible and more importantly, interesting.
We spoke to a few of our current and former coding students about their learning journey with us. Discover why they enrolled onto our coding course, what they're working on at the moment, and the impact the course has had on their career currently, and how it'll help them in the future.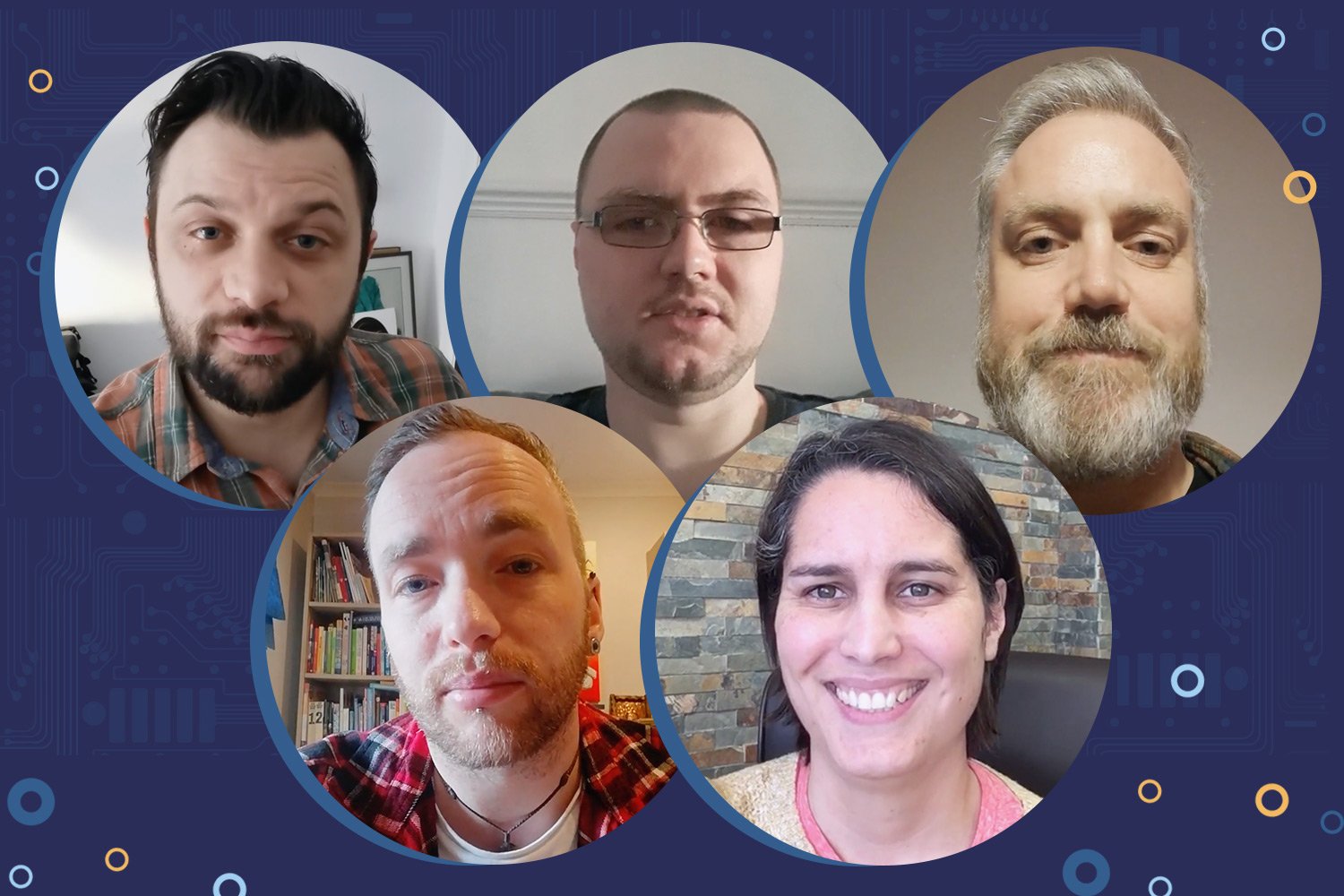 Why change careers into coding?
Student Salome was working full time in compliance, predominantly in the healthcare sector who was looking to change her career. She enrolled onto the full stack development course to become a professional coder.
Joe also enrolled onto the coding course in the hope for a career change. He said "I basically got to the point with my career where I felt like I needed a bit of a change. I've got a bit of past experience doing software development, so I figured it might not be too much of a step going in this direction."
Andrew had a similar story. He was working as an operations manager for a large telecom company. "I wasn't really happy in my role", he explained. "So I decided to get myself upskilled, so I could look for something a little bit more challenging, a little bit more fulfilling." 
We also spoke to student Simon who not only wanted a career change, but a change in lifestyle. "I wanted to study and become certified in a skill for flexibility to work freelance, or to be employed by a company, and for abundant job opportunities." Simon currently works in hospitality management which is still something he does full time whilst completing the course.
Daniel enrolled onto the course as he found he really enjoyed working on Python projects in his spare time. These projects gave him a good insight into what is needed to become a coder.
Why choose Learning People as a coding course provider?
Salome did her research when it came to finding a coding course provider. "I looked at all of the companies that offered them, and the reason I chose Learning People is because of the excellent reviews. Also, the fact that they've got their StudentCareTM team which a lot of other companies don't have."
Salome also spoke highly of our expert team of career consultants and the benefits of her career consultation. "Stuart is incredibly knowledgeable and passionate about what he does, and he made me feel incredibly comfortable when signing up."
Joe echoed Salome's kind words, saying "There were a lot of courses out there, but I thought Learning People seemed like the best option for me. First and foremost, the consultation call was great. It really helped me decide what the best course was for me, how long it was going to take me, the payment details – it was all great." 
Andrew also chose Learning People because of our service, stating "The reason that I chose Learning People, out of all the other companies that offer this sort of service, was because they seemed so honest when I was speaking to them on the phone. They didn't make any grand promises, and they were quite down to earth in what they told me I'd be able to get out of doing this [course]. And best of all, they didn't let me commit to anything until I'd gone and trialled some sample courses to see if I had an aptitude for coding in the first place."
The consultation call was also a huge benefit for student Simon. "The consultation call was very quick. It was very soon after making initial contact with Learning People, it's ultimately what motivated me to choose Learning People as a course provider."
What are the challenges you've faced whilst studying full stack development?
It won't be a surprise that the full stack development course can be challenging. It's designed to teach you a variety of coding languages and frameworks, and a lot of our students find some of them more difficult than others. Our students spoke to us about the challenges they've faced and how they worked through them.
Salome knew that adjusting her schedule to fit in studying would be difficult. "The biggest challenge that I face is sticking to my study schedule. The reason for this is that my arch nemesis is incredibly powerful, it's called procrastination! I can very easily find something to distract myself from actual matters at hand. Will I give up? No. That's not an option."
Similarly, Andrew found that having the time to study was his biggest challenge. "The reason being, I'm a husband, a father, and I was working full time at the same time as taking the course. So what little time I got to spend with my family, it was very precious to me." 
Simon also told us that "The greatest challenge I found whilst studying was working full time in hospitality management and trying to find the time to study. I actually changed venues while studying and went to predominantly working nights, but ultimately it's something that I chose to do. Studying is something I enjoyed doing so it actually wasn't that hard to change when I put my mind to it." 
Joe, on the other hand, found that his biggest challenge was fully understanding the code he was learning. "I think it's easy to actually just do the coding, but to have that full knowledge of knowing exactly what you're doing is important, as that allows you to fix errors. The team gives you the right resources so that you don't have too many challenges to face."

How has learning to code had an impact on you and your career? 
Many of our coding students find that even before they finish the course, new opportunities have opened up.
Joe spoke about how we've helped build his CV and how he's started to look out for new opportunities in the industry. "I've still got a good way to go through the course, but I've basically found that I've been able to open a few doors on things that I can do prior to my career change. I've already seen that there's a whole wealth of jobs out there, so I've been able to change my CV. [Learning People] offer some really good advice on how to make your CV the best it can be. I've had some interest in freelance work already."
We spoke to Andrew who was lucky enough to find a coding role whilst studying. "Thanks to the skills I'd picked up with Learning People, I was in a position to be offered my dream job. Now I work as an associate developer and I've never looked back. It doesn't feel like I'm going to work anymore because I enjoy it so much." 
What advice would you give to people looking to learn coding? 
Daniel is really enjoying getting stuck into the coding course, but he says "the advice I'd give to people is that you'll need to practice a lot. Start small, and once you've got the code working for smaller, basic sites, then you can look at what you'll change, or add to improve it."
Simon's motivation is all about going for it. "The advice I have for people is to just go for it. There are so many amazing resources on the internet available for people, so if you want to find technology [to learn coding] it's right there for you. Use technology to learn technology."
Based on Andrew's success since enrolling onto the coding course, he's said "my advice for somebody considering this, as long as you're able to put in the hours, and willing to put in the hours, then go for it. I managed to change my career and my life just based on a few month's worth of graft. I've never looked back and I'm very excited about the future." 
We're really excited about the next generation of students as they embark on the world of code. If this sounds like you, then discover more about a career in code, and arrange a consultation call with one of our experts today to find out how you can start.