Career Services
Our Career Services team coaches you throughout your job search, helping you land your dream role.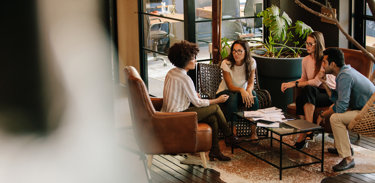 Boost your employability with 360 Career Services support
Through our 360 Career Services support, our team of ex-recruiters will equip you with the right knowledge needed to tackle the complex jobs market and boost your employability throughout your studies. You'll be assigned a Career Services consultant to coach you throughout your job search, helping you land your dream role with 97% employment success. By the time you've completed your course, you will have the tools and confidence to dive into a role that suits you.
Your pathway to career success
We guide you through a three-phase process to help you secure your new career
Phase 1
CV and LinkedIn consultation
Your dedicated Career Services consultant will be in touch shortly after your orientation to coordinate your student journey with us. They can begin working with you immediately, or we can schedule the start of your journey to fit with your workload and availability. Career Services are ready when you are. 
CV consultation
LinkedIn consultation
Toolkits
These will explain how to create and manage your career resources and will include the following:
A guide to creating a credible CV, and an optimised CV builder to get started.
A cover letter template highlighting the essentials so you can make a good impression to employers.
Learn how to create a stand-out LinkedIn profile with our essential guide.
A checklist covering all action points to complete before moving onto the next phase.
It's now time to move away from the job boards and invest in the knowledge and skills to get recognised.
Phase 2
Networking and application process
This phase of Career Services is dedicated to helping you find and apply for the job that's right for you. Your dedicated Career Services consultant will help you leverage LinkedIn, navigate the job market, get recruitment agencies working for you, apply for jobs effectively and understand applicant tracking software (ATS).
During this phase, you will better understand:
How to use LinkedIn for networking
How to approach recruitment agencies
How to apply for jobs
The importance of job fairs and webinars.
Phase 3
Interview coaching and techniques
The third phase of Career Services focuses on nailing your interview. Your Career Services consultant will coach you on interview preparation, questioning, gaining feedback - and how to demonstrate that you have the skills and attributes to do the job.
You will learn:
How to prepare for an interview
Interview question techniques
The best way to getting interview feedback
Understanding applicant tracking software – ATS
Eben Scheepers | Junior Project Manager

I quickly became excited for the learning process and knew that I had made the right decision to enrol

StudentCare™ was a great motivator too, and regular catchups from a consultant was a great way to keep my learning on track.

Rahul Virdi | Network Engineer

Thank you so much for helping me to switch my career from Hospitality to IT

I don't think without [my Career Consultant's] help I would have been successful in my Network Engineer interview.