Innovation in the workplace: best companies to work for in 2018
Silicon valley and US brands like Google and Facebook may be topping the creative office design charts, but there are now plenty of great British brands entering the scene.
Yes, that means it's possible to work for a UK brand and get more than a free cuppa or beers on a Friday.
We take a look at the top companies to work for in the UK, with innovative office spaces that rival the business playgrounds you may have thought only possible in the US.
Homely vibes at Zoopla
Is this possibly the best place to work, with its plethora of innovation all in one office space. One that not only breathes the values of the company but also helps inspire you through your working day towards a collective mission. Best known for its online property listings portal, Zoopla's house-themed office in London Bridge is designed to mimic a house.
There's a library, living room, dining room, wine cellar and even a tree house. If that isn't enough to make you feel warm and fuzzy throughout your working day, they also have a meeting room decked out to resemble a swimming pool. A current Zoopla employee explains:
"The office is out of this world… Bruno our very own barista (what a hero!). Gym with fresh towel service (no excuses!). Free breakfast & daily snack time (hence why we have a gym!). Games room with arcade games, pool, table football, air hockey. Ping pong with free weekly coaching."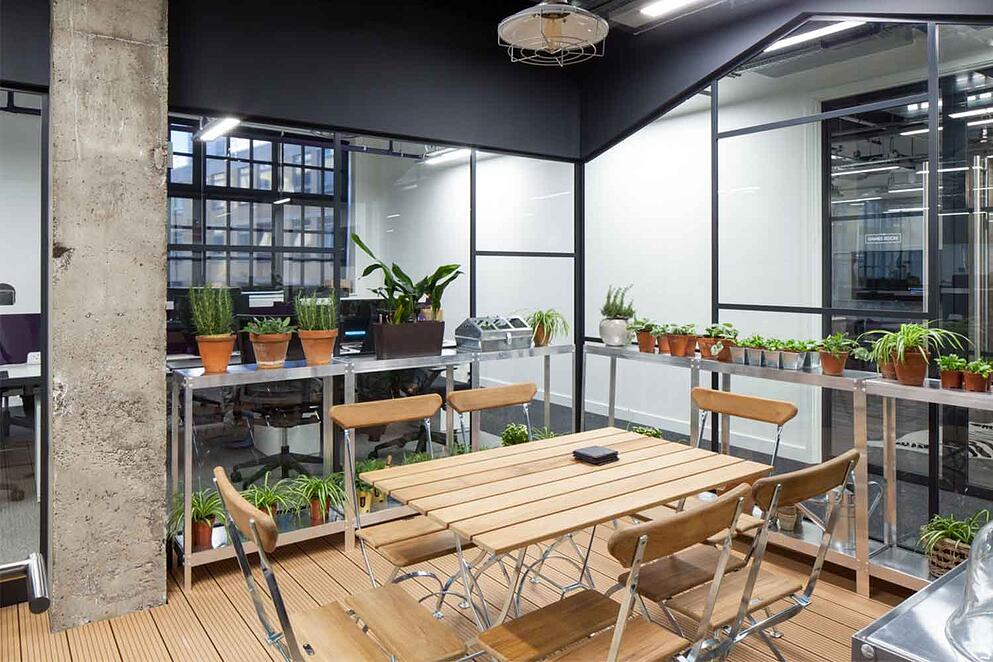 How do you get a job at Zoopla?
In addition to their property listings, Zoopla also owns a range of property-related tech companies. This means if there are a huge range of job opportunities available, making this a front runner for your great places to work list. A quick browse through their current postings will tell you that they're looking for anything from IT, UI designers and system engineers through to marketing, content editors and account managers.
The Zoopla careers page says they look for candidates who are passionate, agile, collaborative and entrepreneurial, which means you are more likely to get the job if you can demonstrate some proactive thinking and passion projects outside of your studies. Have a browse through their listings and start shaping your CV and application to tick all of their boxes. Not got the right skills yet? Take a look at the range of elearning courses to get started with your new career today.
2. Urban creative haven at BozBoz
Beyond his digital skills, the owner Mike Hollingbury has a creative background as a DJ and a passion for art, which is personified throughout their modern creative office design in the seaside town of Brighton. The entire ground floor is dedicated to art with a gallery open to the public and used for VIP events throughout the year.
The building is a 4-floor converted Edwardian House and the decor has a bohemian and creative vibe throughout. As employees work their way up the winding stairs of the Bozboz tower they will experience the different moods including pieces from Goldie, Ryuca and MauMau. Head of talent and culture at Bozboz Holly Potter explained:
"We are a creative agency and have a very unique culture and we see the interior design and art displayed in the building and the creative space are a way of inspiring the team. A lot of businesses throw budget at interior design and see it as culture. Our culture is how we think, act and interact. We see our work space as a beautiful environment where our culture thrives, it's a nice to have, not what defines our culture."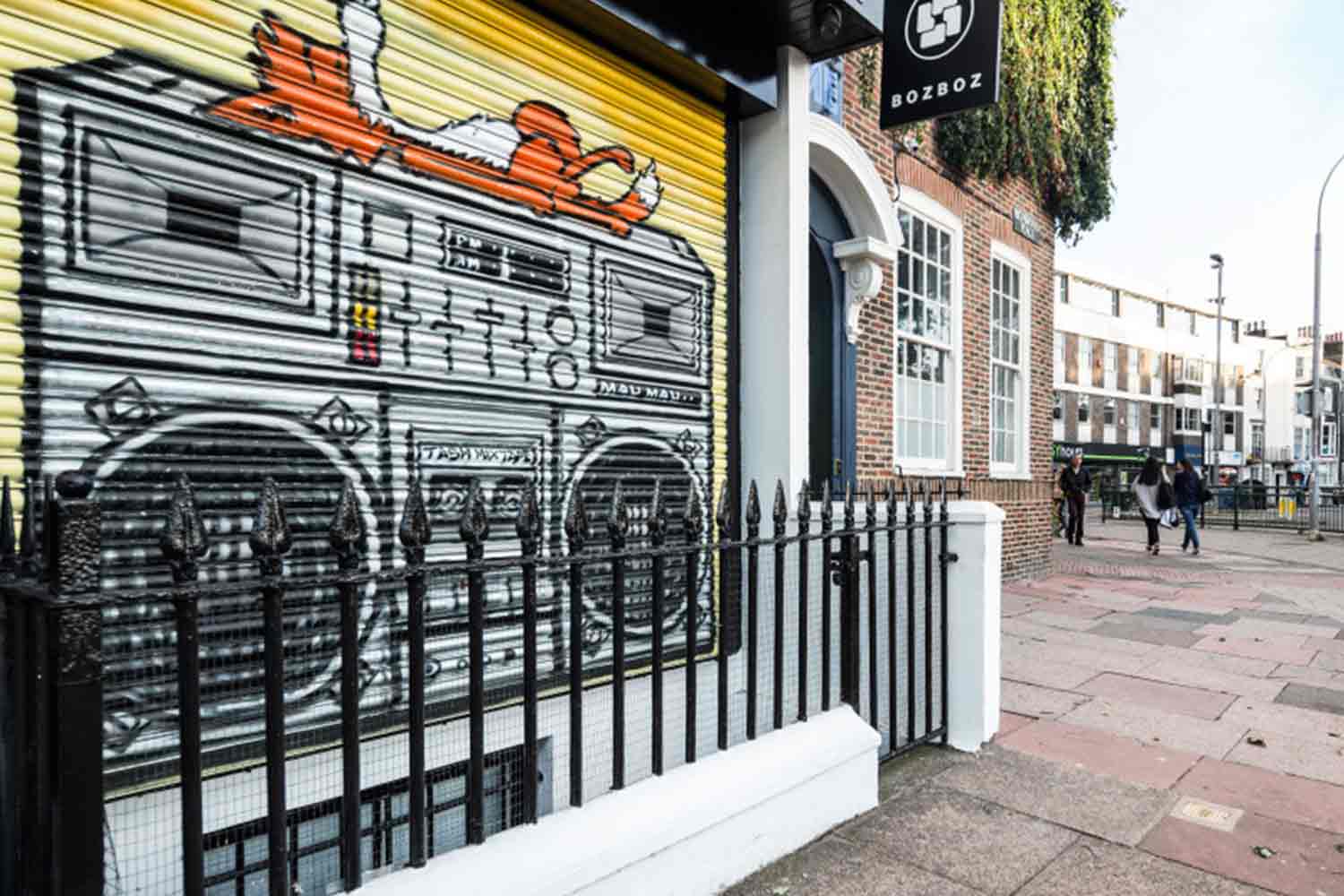 How do you get a job at Bozboz?
Like most creative digital agencies in Brighton, Bozboz is continually growing and on the lookout for new talent. Specifically in marketing disciplines from front and backend development, UX design through to account manager, marketing and social media or content writers.
Whatever your level of experience, it's worth reaching out if you are ambitious and keen to learn as Bozboz also take on interns from time to time. If you do reach out, work on an impactful covering letter that demonstrates your passion for approaching their agency specifically, i.e. beyond the fact you think the office looks epic.
3. An office with the cars to fuel your drive at AutoTrader
If cars get your engine revving, then Autotrader will make your top companies to work for list with its creative office design in London. They have car-themed meeting rooms and classic motors specifically craned into the office hallways. The chill-out areas also help employees unwind or clear their mind on a much-needed break. A current employee said:
"Inspiring work environment, a great 'family' feel with a real passion to drive a difference and create a positive change in the industry. Having only been with the company a short while I feel empowered and given full autonomy to 'make a difference' within the company and with our customers."

How do you get a job at Autotrader?
Autotrader boast that their people-centred culture combined with their tech and data expertise, makes them one of the UK's leading companies. They have career opportunities in technology, customer partnerships, finance, business operations, advertising, sales and marketing. In addition to their plush London office, they also have an office in Manchester. To give you an idea of the opportunities available at Autotrader, their latest listings include:
Data Scientist, up to 75k
Database Engineer, up to 35k
Account Manager, up to 40k
Have a browse through their existing jobs and get applying today or have a good look at the required skills and experience on your dream job so you can start heading in the right direction.
4. It's a skaters paradise at Jimmy's Iced Coffee
If you haven't heard of Jimmy's Iced Coffee yet, then you're obviously out of the loop. There was quite a social media frenzy for this startup back in 2013. The business was originally launched out of a bedsit by a brother and sister duo Suzie and Jimmy Cregan. By 2015 they reported a generated revenue of £1.2m and a distribution deal with Sainsbury's.
Now? Well they've gone from being an experiment to a celebrity-endorsed brand stocked by top brands like Tesco and Ocado. Not only that, they have a fancy office with a quirky nature that has continued to cause a stir on social media.
The major feature is a skate ramp and you'll also find the odd surfboard dotting around, which is very fitting for it's Dorset location. Yes, that's right – not all cool offices are in London. A job and an environment for anyone comfortable with using the word 'dude' in everyday life. The general culture has a family vibe with group eating and collaborative working encouraged. Dude? What's not to love?
In a Real Business article, Jim Cregan talked more about the design process:
"We wanted the design of the office to be somewhere that you'd also hold your 21st birthday. We wanted a space that inspired people, energised people and didn't bore people. We are asking people to work long hours in the office so we think it's only fair that it's a nice place to be.
"The crew love it, we are always evolving as more people come into the business and we welcome change with eyes wide open."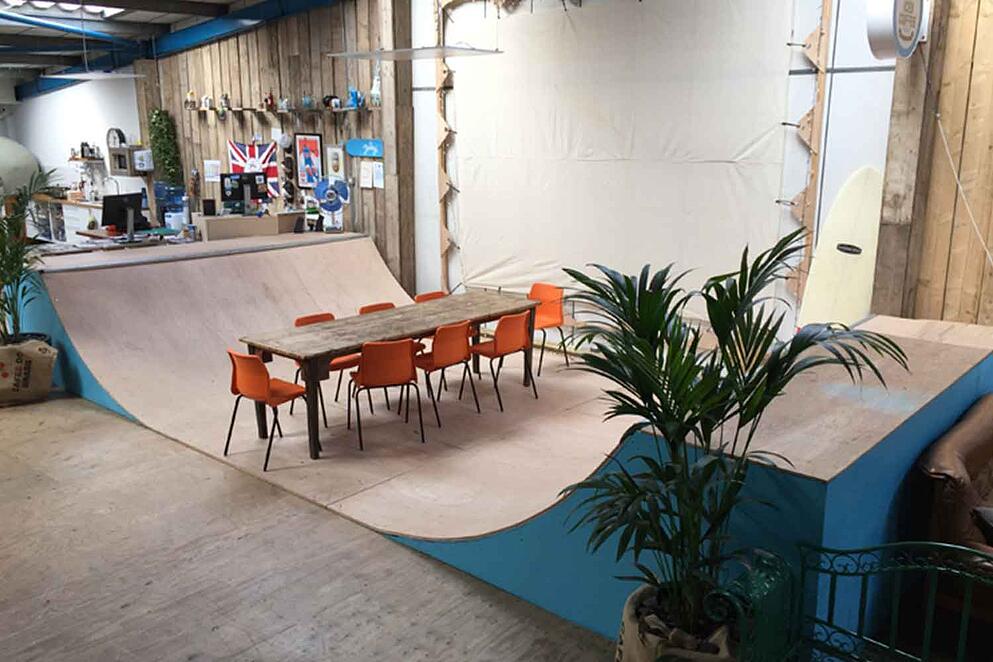 How do you get a job at Jimmy's Iced Coffee?
Talent management business Talent Rocket manage the hires for Jimmy's Iced Coffee. On the dedicated careers page, right off they explain that:
"You don't have to have a beard to work here, but it helps. If the thought of team lunches, unlimited iced coffee and having (dead serious) meetings on the office skate ramp float your boat then this is the place for you."
5. Beachside and playful vibes at Living Social in Covent Garden
The ocean may not be within reach, but who needs the real thing when discount voucher brand LivingSocial have a beachside waiting room? The entire Covent Garden office is innovatively designed to encourage creativity and put people in a playful mood. Elevating the 'experience' element of the brand's mission. This innovative office space has fake grass, picnic themed breakout spaces and a chill out area with games consoles, ping pong and beer. Sounds like an innovative office design we can get behind. In an Indeed review a previous employee said:
"It was wonderful to work for LivingSocial. It was different from any other call center I had worked for. There was a passion for customer service and a structural belief in the quality of service provided. The culture was amazing and the root was the people that made the place so amazing."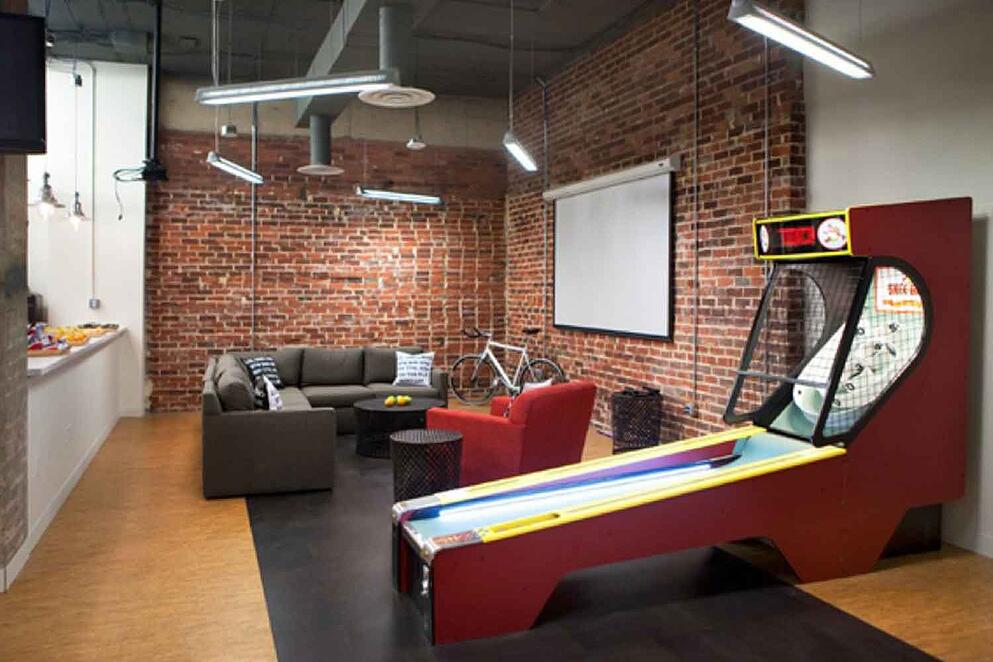 How do you get a job at LivingSocial?
LivingSocial was acquired by Groupon last year, so your route to finding the latest vacancies and getting a foot in this rather fancy door, is via the Groupon careers page. They have global career opportunities for both brands in tech, operations and business development. More specifically they are currently hiring an email campaign manager and senior data analyst for LivingSocial. Have a good look through their existing vacancies, even if they are not quite ready yet. So you can benchmark where you need to be to nab a job with them.
6. OVO energy Bristol
Creative office design can just look pretty, but OVO energy office in Bristol energise their staff with vibrant colours and implement energy efficient solutions. Inspiration can be found in the details, with their meeting rooms inspired by entrepreneurs and innovators. There's also a treehouse slide, green living moss atrium and ski base camp.
If you thrive in creative and innovative surroundings then this is a top find for you. Bristol is also a great city packed with art and culture if you're looking for a change. A previous employee sang OVO's praises in an Indeed Review saying:
"Fantastic company culture, really is a breath of fresh air within the energy industry! Great wages and benefits, free breakfast and tea and coffee is provided to you. Your hours are set and your team leaders are always happy to help. A company that genuinely wants to change things for the better! If that isn't enough, there is also a treehouse with a slide (and yes, you can go on it)!"

How do you get a job at OVO Energy?
On their careers page OVO really promote the social aspect of their working culture. Explaining that they work hard, but also like to have fun with Christmas Balls, a Summer Festival and the odd BBQ. There are also plenty of great staff benefits that may tickle your fancy including free breakfast, 80 social clubs, a mentorship programme and 25 days holiday. Most of their Bristol vacancies are currently in customer services or home technology.
Have a browse of their vacancies to get applying now or start planning your route into a job with this brand. Even if you don't see a job that fits your skills, it's always worth sending a speculative application expressing your interest in their brand in case they have relevant opportunities in the pipeline not yet on their listings.
Spruce up your CV and get ready to work at a modern business
The days when companies could get away with dull offices and basic benefits are pretty much gone, especially within the digital and marketing industry. More and more businesses are getting more creative with the workplace, not just in their creative office design, but also with company perks that go beyond traditional monetary gain. If your working environment is important to you, then why not narrow your job search to brands that have innovative office design?