Code
Make the change with coding
Do you need some advice on getting started with coding? We'll talk you through the steps you need to take to begin your new career.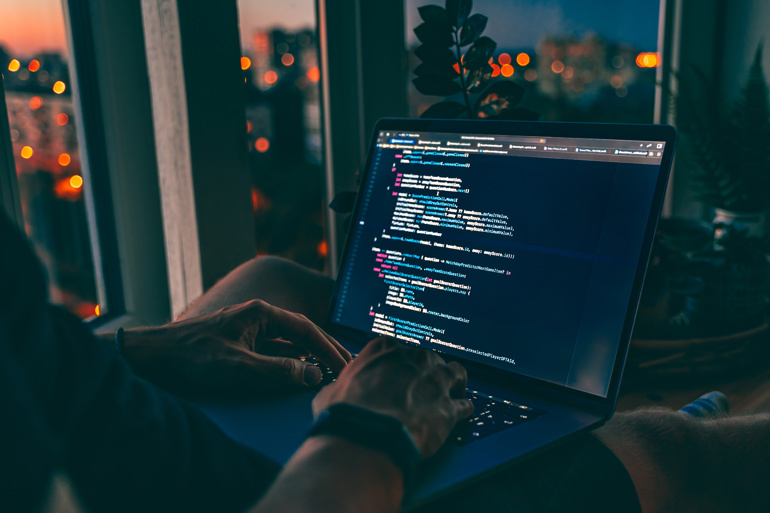 Getting Started With Coding
With the ripple effect of the pandemic still spreading, unemployment continuing to rise, and positions being cut due to economic inactivity, stepping into the world of work can seem pretty daunting. However, one industry that continues to thrive is the IT industry, and jobs in coding are abundant.  Getting started with coding has never been easier, and whether you are looking for your first job, or are considering switching careers, we're here to help you every step of the way. 
Despite their resilience, many face uncertainty in education and the job market. The astronomical university fees have left some feeling that an alternative route might be a smarter option. A recent study by ECMC group discovered that only 51% of Gen Z are interested in taking on a degree, and see much more value in pursuing skills-based education to forge a more successful career path.  
There is no denying that professional certifications are providing a faster, cheaper, and more effective job-ready solution than university at present. As a result, quick-thinking students are enrolling now to secure low tuition fees and high employability success by being ready for when the January 2023 recruitment drive begins. So what better time to push forward getting started in coding? 
According to a report by the Tech Council of Australia, the Australian Government and the Australian tech sector have a shared commitment to achieve 1.2 million tech jobs in Australia by 2030.1.Vacancy rates in tech are also 60% higher than the national average and tech jobs are forecast to grow at triple the rate. These are just a handful of reasons why it has never been a better time to be part of the solution to the tech skills shortage and secure the software developer career of your dreams. 
Getting started with coding Vs going to University - which is better?
Going to university and graduating with a degree was traditionally seen as the only way to land a high-paying job in almost any industry, including IT. But the employment landscape has changed. A tech skills shortage in an increasingly digital world meant that the demand for software developers was outstripping the education universities could supply. As a result, students now have many more options to fit their unique learning styles, budgets, timeframes, and career path. 
McKinsey & Co research reported that the pandemic accelerated digital transformation by seven years, and contrary to what many might tell you, tech is not destroying jobs but creating them. Moreover, with the average university debt rising to $25,000, getting started with coding is an attractive way to avoid massive debts before your career even begins.  
The benefits of an online education
Apart from being more affordable, there are many other benefits to achieving certifications online. With many courses and websites at your fingertips, you can choose exactly what you want to study, and when. You will become the master of your own destiny by putting together your unique path relevant to your goals. And the best news is that you can achieve all of this at a pace that suits you, and from the comfort of your home. 
Why coding is a futureproof career
Although we are living in uncertain times, there are a few areas in life that we can safely predict. First, we know that technology will continue to dominate every area of our lives and evolve as it does so. We also know that if technological change is inevitable, so will the demand for a skilled workforce. By getting started with coding, you will become armed with the knowledge to start your career path, and get one step ahead by future-proofing your career. 
The future will be ruled by those who are tech-savvy rather than those who are tech-averse. A PwC survey revealed that 83% of CEOs are increasingly concerned about their ability to find the right tech talent. For students, and young people, however, this grave concern represents a wave of opportunity to be a part of building the future or helping to secure it. 
Your career as a successful coder starts now
Your journey might begin with the goal of becoming a pro coder and building a portfolio of projects to show employers. Your average salary will start at around $80,000, and as you gain experience, you will soon become a senior full-stack developer picking up $140,000+ a year. However, by getting into coding and developing a strong understanding of programming languages, the possibilities are endless. Perhaps you'll become a cyber security whizz, and help protect sensitive data breaches from occurring, or perhaps you'll end up wanting to explore Python with the eventual goal of hitting a six-figure salary as a Python software architect. The route you choose will depend entirely on what areas you are passionate about, - your career pathway will be up to you.    
How do I know if coding is right for me? 
Coding caters to a range of different personality types, thanks to the fact that diversity of thought plays such a crucial role in the tech industry as a whole. Software development teams are often tasked with building new solutions that will be inclusive of all potential users and customers. Overcoming business challenges with technology will also require innovative and creative thinking to deliver customer success, and this requires teams with different personality types and a range of perspectives. 
These are just a few examples of how IT must cater to all personality types to drive a business forward. As a result, development teams typically consist of an eclectic mix of extroverts, introverts, analytical thinkers, creatives, and open-minded, organised individuals who are logical and flexible. Regardless of your personality type, you will seamlessly fit into any tech team where diversity of thought is celebrated and encouraged. 
How coding careers progress quickly 
Once you've decided to get started with coding, you might wonder how long it takes to progress in your career.  
Code+ is exclusive to Learning People students. It provides a fully supported 'novice to job-ready solution for anyone wanting to enter the world of professional coding and web design. Of course, you could quickly secure an entry-level position for $80,000 a year upon completion. But this is just the beginning of your career in coding. 
Regardless of which path you choose next; a software developers professional's opportunities and salary expectations will progress much quicker than you might think. 
Whether you want to go from being a Java novice to Javanista or if you are thinking about learning to code, a rewarding and lucrative career in coding could be right around the corner.