Discover the Learning People Industry Advisory Board
Following the success of our Career Services, we've gone one step further in our mission to close the skills gap and get our students into their dream roles.
Published on: 10th March 2020
We are excited to announce the launch of the Learning People Industry Advisory Board. We interviewed our Head of Talent Communities, Mike Appleby to find out exactly what this is and what this means for Learning People students.
What is the Learning People Industry Advisory Board (IAB)?
"The Industry Advisory Board is a key part of our mission to better connect learning with careers and to match students with tech employers.
"It's important that our students reach their career goals. Once completing one of our courses, we want to give them the best chance at finding the right role. Not only this, but we've spoken to companies that are also struggling to find the right talent for their vacancies.
"With this in mind, we've brought together experienced professionals from the tech industry, online learning experts and government officials, to all share their solutions for closing the skills gap and to advise us on what industry is looking for."
What are the main aims of the IAB?
"The Advisory Board will help us support our students on a number of initiatives.
"They will endorse our learning pathways, so that our students are assured that our advice is accurate and most likely to help them achieve their goals. Students will receive the highest quality experience aligned with industry expectations.
"The group will become an extension of our business, opening doors for more employers to get involved, as we launch new initiatives to bring learners and careers closer together.
"We will collaborate as a group to solve a wide range of issues affecting the industry. A main goal is for companies to have access to a wider pool of talent and in turn offer the opportunity to those with the right aptitude, to have a successful career in tech.
"We also address issues facing minority and underrepresented groups. This is key to the future success of industry and ensures we maintain our ethical stance as a provider of education and advice."
Where do you see the IAB in 5 years?
"In 5 years, we want Learning People, with the support of the IAB, to be at the forefront of tech hiring.
"We will have launched and initiated game changing projects, commanding the attention of others in the industry on a global scale. The group will become stronger through a collaborative set of ideas and will be able to rapidly initiate new employment concepts."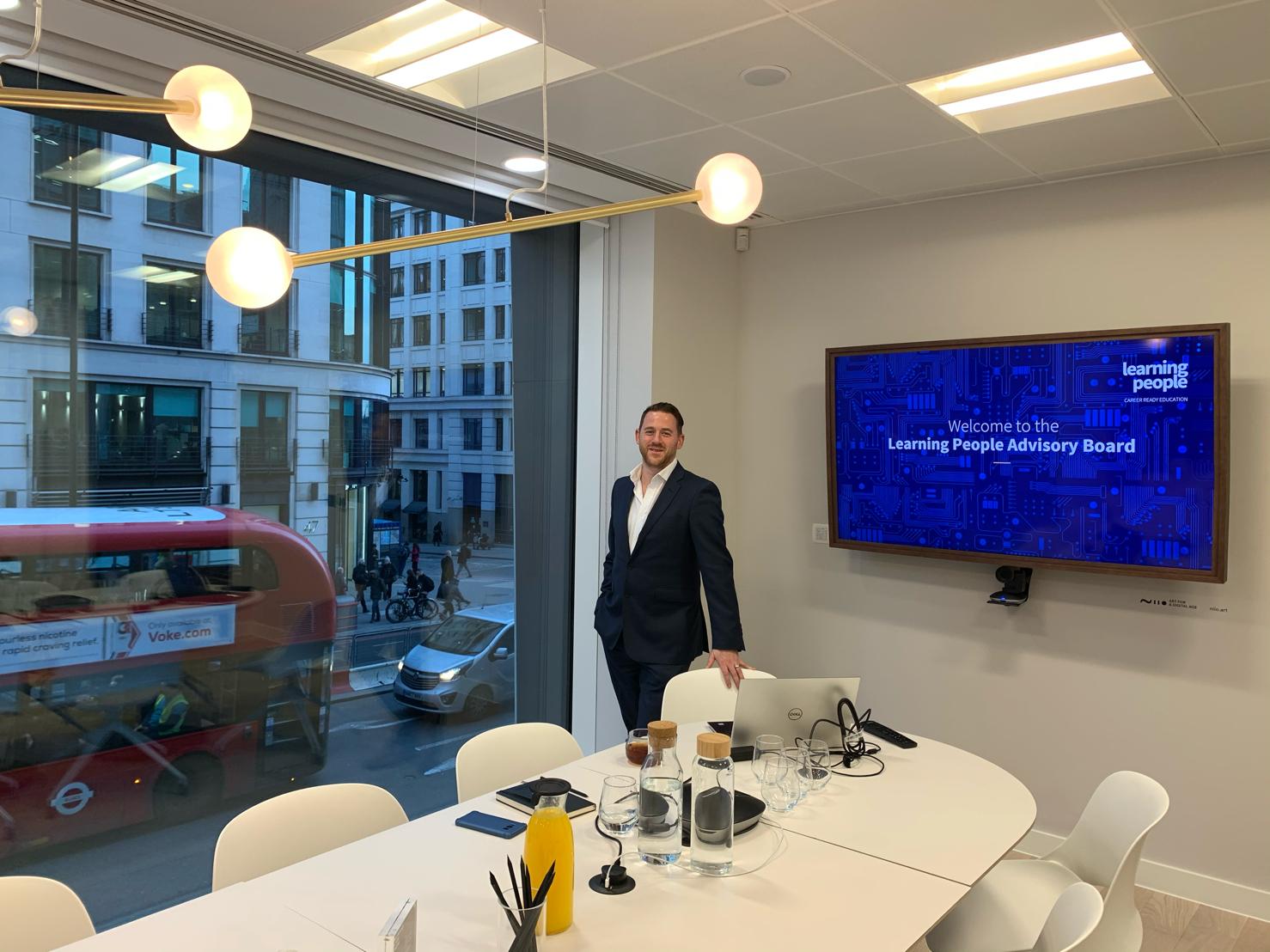 Some great insights into this exciting next step, we can't wait to see the benefits. Next, we find out about Mike's experience and his role at the Learning People.
What was your experience prior to Learning People?
"I was working in industries that were hugely affected by the growth of tech, most notably the media industry. Having watched so many people lose their jobs as the radio and press industry changed I decided to move into recruitment to address some of the issues. Working as an executive search consultant in the tech industry as well as working on market leading job boards gave me enough insight to launch a candidate centric recruitment business. This helped employers identify hidden talent and allowed candidates to showcase their abilities and to gain confidence.
"I also launched an initiative to help young people from a variety of diverse backgrounds into work through lots of support and training, learning sales techniques, becoming credible and not being afraid to ask!"
What is your role at Learning People?
"At Learning People, I am leading our transition as we blend learning with talent acquisition. In the last 12 months I have launched Career Services which contains all of the advice a job seeker needs to help them get noticed. This has seen some incredible results for long term job seekers gaining employment as well as building confidence in students resulting in increased salaries and greater benefits.
"I hear too many stories of talented people not feeling recognised or listened to. The Career Services that we offer are extremely effective and help our students achieve rapid progression"
What has been the highlight of your career at Learning People so far?
"Winning government tenders, meeting lots of amazing people and the launch of Career Services. This is a culmination of a decades worth of experience and combined knowledge working towards producing a product available exclusively to our students and that is making a huge difference.
"On a personal note, it is hugely rewarding to see the success of our students on an individual basis. I am also really amazed by the enthusiasm we have seen from the industry to help us achieve our goals. We are going into 2020 with a lot of ideas and motivation to make a difference which is hugely exciting."
What are your goals for the future with Learning People?
"My mission is to develop solutions which nurture, connect and re-build the confidence lost by a large job seeker community whilst giving industry an insight into the vast amounts of hidden talent around them.
"In the next 12 months I will look at how we can better support our students. I will remain well connected with leaders in the tech industry bringing jobs and insight to our students and data to employers which will allow them to recruit on merit and not social norms. We will connect to government initiatives and overall continue to ensure we remain a leader in the space.
"Everything we do is so people can do incredible things"
Connect with Mike on LinkedIn to keep up to keep up to date with the progress of this amazing project.