Learning People: Our 2019 highlights
With 2019 coming to a close, it's the perfect time to reflect on all the exciting events that happened at Learning People this year and what you can look forward to in 2020.
Published on: 11th December 2019
A word from the CEO, Patrick Aylmer
"What a year! Whilst we've had lots of good years, 2019 was one of our best yet. Loads of highlights, but the fact that were able to help more people than ever before to enter the tech industry is the standout.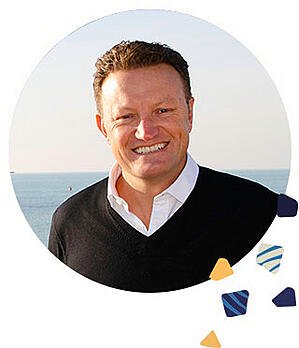 "We were delighted to see an increasing number of people coming to Learning People to understand what career pathways within the tech industry are available, what they may be best suited for, what options are available and most importantly of all, committing to taking their first step on a career journey that holds so much potential.
"What's also super exciting are our plans for 2020. In November of this year we established our Industry Advisory Board to ensure our learning paths are aligned to what the industry needs, and to sense check us our talent acquisition proposal – we want to make sure our learning pathways are teaching the right skills that employers absolutely need. 2020 will be all about proactively helping our students find roles in tech they love.
"Through our ever increasing network of employers we want to make introductions for our student to possible work placements. In addition, our new Career Services will teach people how best to approach the job market – from LinkedIn profiles, to CV writing to networking skills – so that our students can land their dream job.
"Thanks to all of our students, tutors, employees and partners for making 2019 such a special year. We can't wait to make 2020 even better!"
Please read on to explore all the Learning People year highlights and get in touch to start your new year journey with us.
Student successes
Ethical hacker student, Charles Karanja passed his exams to land his dream role at industry giants, Telefónica.
"Learning People aren't interested because I paid money to do it, they're interested in my success"
Full stack web development student Eric Mordi is now working as a Junior Front-End Web Developer at Avast.
"I found it very difficult to figure out the best way to get into development as far as what to learn. How and where to start applying for jobs and most importantly how to create a network of like minded individuals… Learning People and Michael Appleby clarified [this] for me."
Project management student Adele Smyth shared with us and how her experience studying with Learning People lead to confidence and career development.
"Everyone I have dealt with in Learning People has always been friendly, approachable and eager to help. Any technical issues were sorted quickly and when I was booking my exams, the customer service was first class."

New Website Launch
February saw the launch of our new website to develop the user experience. This rebrand heavily supported our mission to demystify the tech industry. You'll find a wealth of information about all the career opportunities our online training can open up.
As an added value, in October our course pages have career pathways displayed to help you plan your advancements in your chosen area. Discover the salary expectations, recommended courses and typical role responsibilities by clicking on each job title.
Percipio
Our new and improved learning platform is at the peak of innovation. Our students can now experience Percipio, with all its intelligent features that are designed towards improving learning.
You can now download course content to access any time or any location from your smartphone, tablet or desktop computer. Customise your learning with a playlist and find all the resources you need with the elastic search functionality used by the likes of Facebook, Netflix, and eBay.
Women in Tech
We continued with our passion to encourage gender diversity in the tech industry. We partnered with Triangirls for our 'Closing the gap: the future of women in tech' event. This was hosted at Deliveroo HQ and included a panel of discussion surrounding the topic of diversity in the workplace. Our own CEO spoke about how Learning People exists to show there is a "viable pathway into the tech industry" regardless of who you are.
Later in the year, we had the pleasure of attending another great event, the Women in Business Expo. This event was fully dedicated to inspire and advise women at any stage of their career. We jumped at the chance to get involved and hosted a stand on both days of the event.
CompTIA Partner Summit
This year our mission to demystify the tech industry took us overseas to Vegas where we had an amazing opportunity to gain unique insights from tech experts from all over. The two main highlights of the event were as follows:
As a CompTIA platinum partner, we were invited to sit on their board and discuss the current state of the market and learn about their new products and training material, aligned to what the industry demands.
Secondly, we wanted to take the opportunity to further demystify the tech industry by interviewing attendees at the summit, which included industry experts and thought leaders from around the globe. We wanted to share with our Learning People community their knowledge, wisdom and opinions on the current and future opportunities within the industry. Our learning programmes are designed to be accessible to anybody looking to change or advance a career, without bias to age, gender or skill level, however enrolling into a career should be well thought out and fully researched before making a life changing decision.
Our marketing manager, Jonno Cox who attended the summit had this to say…
"From my own personal experience, it was extremely exciting to learn about how the tech industry is evolving, where the biggest opportunities are, specific skills employers are looking for and the best routes into a tech role. I hope the videos we created will help eradicate any concerns people may have, but also outline how the tech industry is booming; there seems to be work opportunities in pretty much every company.
"It's a career where you can go to work each day and be excited by the prospect of learning something new, with the added incentive of a handsome salary and job security; with the demand outweighing trained professionals.
"There's probably no better place on the planet to hold a globally leading event, which is always an honour to be a part of."
Career Services
We made a massive step for our students with the addition of our Career Services. This new service gives students the tools needed to approach the job market with confidence. The basics are covered with a guide to optimising your CV, cover letters and LinkedIn. Further down the line, we advise on how to network effectively and offer unique insights into job applications and the interview process.
Going even further, our Head of Talent Communities has brought together a team of experts to form the Learning People Industry Advisory Board. The aim of this board is to come together with ideas to reduce the skills gap in the tech industry. A massive part of this is connecting our students with employers and we are excited to see this grow in 2020.
Awards and Accreditation
We're delighted to be accredited by the Learning and Performance Institute for the 8th year running. The accreditation demonstrates that we adhere to best practice in the provision of learning services and is a globally-recognised quality mark.
We also graciously accepted two awards from our partners:
Skillsoft EMEA B2C Marketing award
CompTIA EMEA Partner of the year runner up award
Thank you to everyone who joined us on this amazing year and we are looking forward to what happens in the year ahead.