Women in Tech: 2021 Virtual Seminar
Join our free Virtual Seminar and get advice and inspiration on starting your own career in cyber security from women who've already started their tech careers.
There's never been a better time to think about a career in cyber security. It's an industry with a 0% unemployment rate, and it's estimated that globally, there are over 3 million unfilled cyber security positions. The COVID-19 pandemic has increased the need for cyber security professionals due to a rise in home working and the demand for more innovative Cloud technology solutions. These changes have made our data and systems more vulnerable. So, the need to have qualified and trained professionals to help us maintain and protect these systems has never been more crucial.
As is the case in many industries across the tech sector, women are under-represented in cyber security. In 2020, the National Cyber Security Centre found that just 31% of those working in cyber security are women. Looking at the tech industry as a whole, women hold only 23% of director-level roles and just 10% of broader leadership positions.
This is why improving diversity in the tech sector is a priority for us here at Learning People: we believe that diversity and inclusivity have to be more than just buzzwords – they have to be actioned in order to actually make a real difference. After all, the more diverse a workforce is, the more effective it is, and a diverse team made up of people with different backgrounds, perspectives, and experiences is a smarter, more innovative and more agile team.
What are the barriers for women in tech?
The idea that women are less likely to succeed in tech careers starts early, often at school. STEM subjects (science, maths, engineering and technology) are still seen as boys' subjects, and industries like IT, coding and cyber security remain male-dominated.
There's also a lack of female role models. 78% of students can't name a famous woman working in tech, and only 16% of girls have had a tech career suggested to them. We believe that to break down this barrier, women need to see themselves represented in the industry as a whole. That's why it's our mission to help as many women as possible to become fully qualified and placed in tech and cyber security roles across the globe.
What support is available for women in tech?
We support and encourage women looking to start working in the tech sector – whether that's in cyber security, project management, or another industry — by giving them comprehensive career guidance. Our students get exclusive advice from our dedicated Career Services team, receiving expert insights into their prospective job market and being supported throughout the job application process.
Another fundamental way of addressing the gender problem in tech is providing women with female role models and mentors. Hearing other women's experiences in the sector – the highlights, the challenges, the things they wished they'd known at the beginning of their journey – is vital when you're just starting out on your own career journey.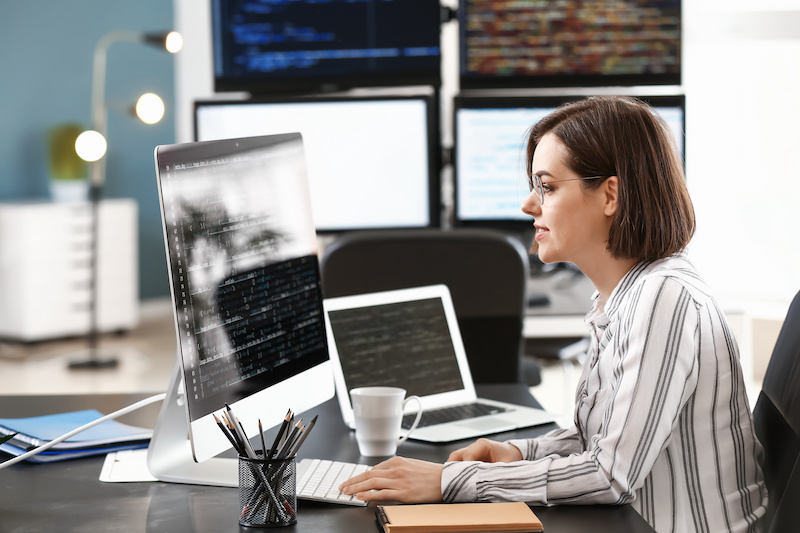 What is the Women In Tech Virtual Seminar?
This virtual seminar is your chance to hear from women working in cyber security right now.
Led by Jasmine Schneider, our expert IT Careers Consultant, you'll get an overview of who we are and how we support our students from the very start of their learning journey right through to applying for jobs in their chosen market.
The main event will be our current students, who are all on cyber security pathways. Hear how they found the learning process and how they started on their careers. You'll hear from Ann-Elaine, who will discuss her career move from music to IT, while Karine will talk about her journey getting certified. We'll also hear from Technical Support Engineer Katya, as she discusses her experience in the industry and her progression into cyber security.  There will also be a panel discussion, where you'll be able to ask your own questions and share your thoughts.
Virtual Seminar Details
Who can attend the seminar: Anyone can attend. Whether you're in the early stages of thinking about a tech career or are already taking your first steps into changing careers.
When is the seminar: The Virtual Seminar is on Wednesday 14 July 2021 at 21:30-22:30 AEST.
Where is the seminar hosted: It will be hosted on Zoom and is entirely FREE to attend.
How long is the seminar: The seminar is expected to last 1 hour.
How to sign up for the Women in Tech: 2021 Virtual Seminar
Sign up and get ready to be inspired to start building your dream tech career — click on the button below.