Cyber Security
Cyber Security needs creative minds
Didn't think that cyber security and creativity go together? Well we think they do! Read on to find out why more creatives are needed in the cyber security industry.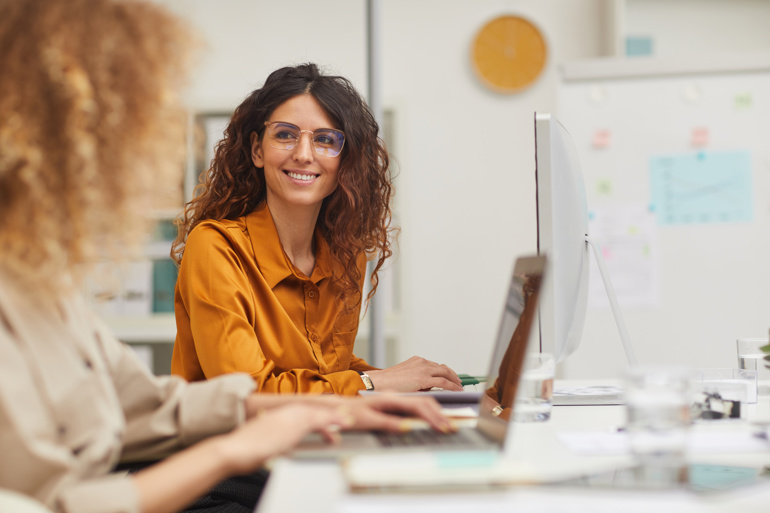 Looking For Creative Roles In Tech? Cyber Security Needs Creative Minds.
If you are looking for a unique creative job, but don't know where to start, have you ever considered a role in the IT industry?  
Traditionally IT roles have called for employees who are hyper-focused, analytically-driven and super methodical. However, what employers are now realising is that people with creative soft skills are extremely valuable in the industry, with cyber security roles increasingly demanding employees to think outside the box, and apply creative solutions to solve the complex problems that arise.  
So when did cybersecurity become a creative job?
The rise in cyber attacks over the last decade brought with it many opportunities for those interested in working in cybersecurity. Due to the global COVID-19 pandemic, we have seen an unprecedented rise in cyber attacks. Phishing attempts alone have risen by over 600% since February 2020 and hackers are quickly coming up with more advanced ways to target people online.  The old ways of working are no longer providing the level of protection that businesses demand to keep their data safe. So they are increasingly turning to young, curious creatives to come up with unique creative solutions to help avoid a security breach. 
As more employees move to remote working, businesses are at a far higher risk of falling victim to cyber crime. This incurs huge costs to organisations, with cyber crimes costing the UK £27 billion according to estimates by the government. 
Individuals who are able to employ their creative skills to predict potential cyber breaches can help prevent devastating losses to a business, and are therefore invaluable to the continued success of the organisation.
What can a career in cyber security offer you?
Hackers are able to reach you no matter where you're located, so the demand for cyber professionals is truly everywhere. You don't need to live in a city to find a cyber security role, in fact in many cases you don't even need to leave your home.
Remote working is extremely common in this sector now, thanks to advancements in technology. You can have all you need to get the job done, no matter where you are and there are currently thousands of vacancies available to you. With no limits, you can live in a place that inspires you, whilst having a stable career to support your lifestyle. 
Once you have developed your technical skills, you'll have the option to work as a bug bounty hunter. This enables you to work for all kinds of organisations, without being hired internally. It's an incredible way to enjoy a truly creative job, work on your cyber security skills, start earning big rewards and all whilst working how and when you want to. You'll also have plenty of time for any other creative passions you enjoy with the flexible work schedule cybersecurity can offer you. 
More than $44.75 million in bounties have been awarded globally in the last 12 months, through independent cyber security professionals finding breaches and reporting them to businesses. You can add working for Google, Microsoft, Facebook and more to your portfolio, all through using these bug bounty programmes.  
A career in cyber security is rewarding, empowering and exciting. You'll be pushed outside your comfort zone to solve problems with creative solutions and no two days will be the same, keeping things fresh, challenging and endlessly rewarding. As technology develops, so do the opportunities in cyber security. You would be entering a career pathway that is innovative, with new areas to explore opening up all the time. 
In Europe, 70% of companies have stated they do not have appropriate cyber security talent. This means the demand is higher than ever. In fact, the unemployment rate in cyber security is 0% – there are fewer professionals in the industry than job vacancies. The pandemic has pushed more businesses into digitising than ever before, and having the right resources to combat cyber crime is so important.
Setting off on this career pathway will ensure you have the skills employers are looking for, in a thriving industry. There are no signs of this slowing down so you'll have no issues finding employment and progressing in this area while still enjoying a role that gets your creative juices flowing. 
We often think of creative types suffering for their art, particularly when it comes to making money. However, the demand for certified cyber security professionals means the salaries are very competitive. Professionals with the right skills often receive multiple interview offers, even whilst they are employed and not actively searching.[Text Wrapping Break] 
The average salary of a cyber security professional is currently 47.8% above the national average at £52,000. That's a large increase on last year, despite the pandemic.  
Why choose Learning People to kickstart your creative career in cybersecurity?
Our award-winning online training is designed to equip you with the most relevant and up-to-date skills. This means you'll be ready to enter the job market as quickly and confidently as possible. Our cyber security course collections are customisable to suit your experience, from complete beginners in the industry to tech experts looking to upskill or validate existing skills.
Your soft skills will also prove extremely useful when entering this new career path. These are the transferable skills you have gained through past employment, education and  all of your life experiences. Your creativity in particular will help you stand out and employers will be looking for that. 
Once enrolled, you will benefit from our Career Services, our student-exclusive job support service. They'll teach you how to make an impact in the industry and help you to find your dream role. You know you are in good hands with the Career Services team – they have a proven track record of helping so many of our students find success in cyber security.
WATCH OUR STUDENT TESTIMONIALS
We understand the importance of job security and are here to help anyone who is looking to enter the industry. Get in touch today for a no-obligation, free career consultation and we can work together to help you reach your goals and find you a unique creative role in tech.