Career Services
Our Career Services team coaches you throughout your job search, helping you land your dream role.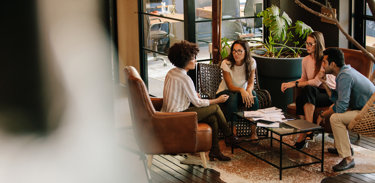 Your pathway to career success
We guide you through a three-phase process to help you secure your new career
Phase 1
Building your professional brand
30 days after your orientation with StudentCare™ you'll receive your first Careers Service eBook. Phase 1 will invite you to build the foundations of your career search.
Careers Support
During phase 1 you will start researching the tech industry, discover the roles that you might want to apply for, and their salaries. You'll learn about the importance of staying up to date with all the latest trends and changes in tech and project management.
Toolkits
These will explain how to create and manage your career resources and will include the following:
A guide to researching the industry and the job roles that work for you
A guide to creating a credible CV, and an optimised CV builder to get started
Learn how to create a stand-out LinkedIn profile with our essential guide
A cover letter template highlighting the essentials so you can make a good impression to 
employers
It's now time to move away from the job boards and invest in the knowledge and skills to get recognised.
Phase 2
Custom professional network and engagement
As you begin phase 2 you will be halfway through your course and ready to make your approach into the job market and your new career.
During this phase you can apply for:
An introductory call with one of our Careers Service consultants to review Phase 1
One bespoke and industry-specific review of your CV, LinkedIn profile and cover letter
45 minute one to one coaching call with your dedicated Careers Services Consultant, focused on your unique needs, ensuring a clear action plan moving forward
How to collaborate with recruiters and apply for the right job role
You'll also receive tips on how to research and network through your specific industry and job sector, with your next exclusive Career Services eBook.
Following Phase 2 you will be ready to showcase your experience, accomplishments, and education to potential employers.
Phase 3
Application and interview techniques
As you come to the end of your course, it's time to start applying for jobs. We will help you navigate your way through job applications and interviews.
You will learn:
How to prepare for an interview
Interview question techniques
The best way to getting interview feedback
Understanding applicant tracking software – ATS
You will now be ready to identify the right roles and companies you'd like to work for.
Marco Newell | Project Management Student

The best investment is investing in yourself.

It's had a massive impact on my life, I've learned new skills, and broadened my knowledge, which has had a very positive impact.

Mike Jennings | IT Student

It was a great move.

I've now got a fresh perspective on my career, a new role with new skills, and a new pathway.
Train with the tech education specialists
As the UK's largest online tech education and training provider we successfully deliver career changing tech industry training within IT, Project Management and Coding. We tailor learning pathways for individuals and businesses, from novice to expert