IT
Starting a Career in IT
The world of IT provides many different career options. Find out how you can start a career in IT and explore our certified online courses.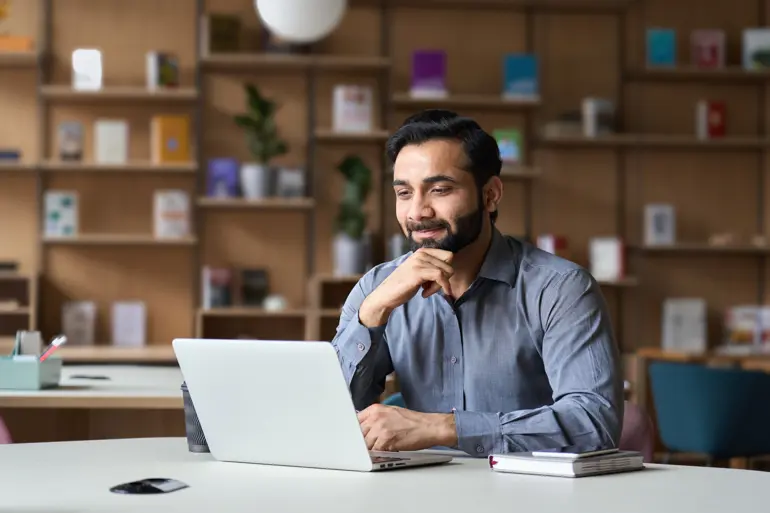 Starting a career in IT
As technology advances rapidly, the Government is investing heavily to make the UK a tech superpower. We are seeing a growing interest in students investigating starting a career in IT and whether university is the path they want to take.   
However, for some students, the rising costs and the lack of guaranteed employment after graduation make them think twice about starting a career in IT. According to data from the Commons Library, by the time the average student graduates, their living costs and tuition fees result in debts of £45,800. 
2022 predicted  unexpectedly low A-level results due to the global pandemic, and many students had  their dreams of going to university crushed. In addition, a shocking 28,000 A-level students found themselves without an offer from a university due to increased competition. 
For those interested in starting a career in IT , the world of IT provides many different career options and you don't need a university degree to get there. 
Learning IT Online Without University
Some students are returning from university with increasing concern of being over £40,000 in debt while also struggling to pick up an entry-level role that pays a respectable £25,000.  
As more young people begin to plan their future and starting a career in IT, we are beginning to see a stronger focus on tech-related  courses that provide the exact skills employers are looking for.  
The well-documented digital skills gap costing the UK economy £63 billion yearly in potential GDP also provides students with new opportunities, and a quick look across the job landscape reveals a 0% unemployment rate in many areas of tech. In short, there has never been a better time to pursue a career in IT. 
In an increasingly competitive market combined with the global tech skills shortage,  professional certifications from internationally recognised vendors such as CompTIA, Cisco, AWS, and Azure empower students to secure the tech job of their dreams while avoiding thousands in student debt 
This is where Learning People can help.  Our professionally mapped pathways open up IT career options in specialist areas such as project management, network engineering, cloud computing, and data science; making students instantly employable anywhere in the world. 
Unlike university, when studying IT online with Learning People, every student can access live expert mentoring, practice labs, test preparation, and full career placement support from our Career Services team.  
So if you are looking at starting a career in IT, Learning People provide a faster, cheaper, and more effective job-ready solution than going to university.  
Future-proof a Career in IT
Many university students fall into the trap of thinking that once they have graduated, they have all the tools they need to succeed instantly. But you may not know that a career in IT involves a life of continuous learning and development, which is precisely what we can offer you.  
So, although our students might begin their journey with the CompTIA A+ Core, this is just the beginning of an IT career that could take them in many different directions. After securing an entry-level position, we will work with you to explore areas in which you might want to specialise, such as networking or cyber security. 
Perhaps you are interested in ethical hacking, or are interested in becoming a pen tester that seeks and reports on vulnerabilities in computer systems, networks, and software? Specialising in a specific area of IT will not only help you future-proof your career, but it will also help you build a path to a six-figure salary in the job of your dreams in technology. 
Studying IT Online Caters to Everyone
Unlike university, online distance learning caters to all personality types, and students simply need to be committed to their academic success.  
Traditionally, the university experience is sold to students as much more than securing a degree. Not only can students widen their range of interests by joining clubs, but they can also pick up essential life skills such as budgeting. However, every student is different and will want to take a different approach in planning their future career and may not want to experience university. For example, some students battling anxiety issues do not want to live far from home. On the other hand, introverted students who prefer to be quieter or avoid social situations have the opportunity to excel in online learning and begin their careers in IT from the comfort of their own homes. 
Although many assume that extroverts will struggle with online education because they thrive on social interaction, it's the exact opposite. Extroverted students will benefit from chat rooms, online discussions, and conversations with their mentors as they study IT online.  
Online Courses to Progress Your IT Career
Due to the vast range of online courses that are available, securing an entry-level position in an IT role in areas such as cyber security is much easier than you might think. Your journey will begin with a rewarding career where no two days are the same, and, as you achieve new certifications, you can quickly unlock endless opportunities. 
Get in touch to get ahead in the tech industry and study IT online to future-proof your career.