Project Management
Is Project Management a good career?
Are you thinking about a career change and wondering whether project management is a good career choice? Here we investigate the ins and outs of a project management role.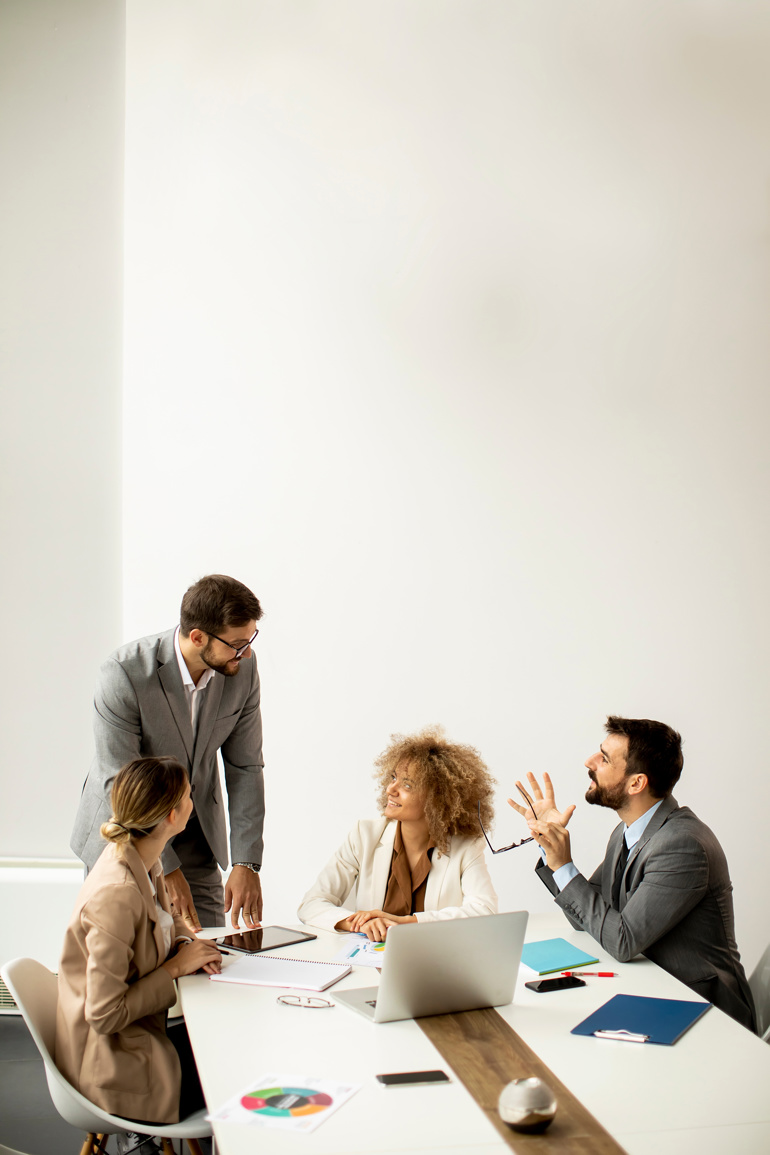 If you are looking for a new role, you may be wondering whether project management could be a good career move. In an increasingly digital world, project management is an attractive career choice for people with non-technical backgrounds to earn an average of £50,000 a year in tech. In fact, certified project managers are always in high demand regardless of the industry. Businesses worldwide are constantly looking for people to plan and implement new projects to meet their objectives and gain a competitive advantage.
Steering a project from conception to a successful conclusion can be challenging, rewarding and provide fantastic job satisfaction for people who enjoy making a difference every working day. Although a career in project management can lead to a lucrative salary, it's the satisfaction of delivering a finished product or service that those working in the role often say is the best part of the job.

What does a project manager do?
Project managers are responsible for defining their customer's goals, communicating with stakeholders, and leading teams to deliver a solution within strict cost, time, and quality constraints. It's an exciting role where no two days on the job (or two projects) are ever the same. Although there will undoubtedly be challenges to face, you will have a team by your side, and the allure of new ventures that will keep you coming back for more.

Why choose a career in project management?
Leadership and responsibility
Project managers are responsible for leading and managing projects from initiation to completion. They have the opportunity to take on leadership roles, make critical decisions, and guide teams towards project success. Project management allows individuals to develop and showcase their leadership skills.

Varied and dynamic work
Project managers work on a wide range of projects across different industries and domains. This variety keeps the work dynamic and interesting, as each project presents unique challenges and opportunities. Project managers get exposure to diverse teams, technologies, and business processes, which can contribute to personal and professional growth.

Impact and achievement
Successfully delivering projects can have a significant impact on organisations and stakeholders. Project managers have the opportunity to contribute to the achievement of strategic goals, drive innovation, and make a tangible difference. The satisfaction of seeing a project through from start to finish and witnessing its positive outcomes can be highly rewarding.

Collaboration and teamwork 
Project management involves working with cross-functional teams, stakeholders, and clients. Project managers facilitate collaboration, communication, and coordination among team members, fostering a sense of teamwork and shared responsibility. They can build strong relationships, enhance teamwork skills, and create a positive work environment.

Professional growth and development
Project management offers numerous opportunities for professional growth and development. Project managers can improve their skills in areas such as leadership, communication, negotiation, problem-solving, and decision-making. They can also pursue certifications, attend training programs, and engage in continuous learning to enhance their project management competencies.

Organisational and strategic impact
Project managers often have a strategic role in organisations. They align projects with organisational objectives, contribute to the development of business strategies, and ensure projects are executed in line with organisational priorities. Project managers play a crucial part in driving organisational growth and success.

Career opportunities and advancement
Project management is a well-established and recognized profession across industries. Skilled project managers are in high demand, and the profession offers various career opportunities. Project managers can advance to senior leadership positions, take on larger and more complex projects, or specialise in specific domains or methodologies.

Work-life balance
Effective project management involves planning, prioritisation, and resource allocation, which can lead to improved work-life balance. Project managers have the ability to manage their time, delegate tasks, and optimise project schedules, allowing for better work-life integration.

Continuous learning and adaptability
Projects often require adapting to changing circumstances, managing risks, and finding innovative solutions. Project managers have the opportunity to continuously learn and develop their skills to meet these challenges. The ability to adapt, learn from experiences, and apply lessons learned is highly valuable in project management and beyond.

Global opportunities
Project management skills are transferable and recognised worldwide. This opens up opportunities for project managers to work on international projects, collaborate with diverse teams, and potentially work in different countries. The global nature of project management allows for exposure to different cultures, work practices, and perspectives.
What makes a good project manager?
Project management terminology, frameworks, and methodologies can all be achieved through study and certifications, but soft skills are the biggest strength of a good project manager. Those who excel in the role are often highly resourceful and skilled communicators who feel comfortable interacting with people at various levels across a business.
Organisational skills, critical thinking, and the ability to keep a calm head and lead a team during a stressful situation are essential traits for successful project managers. The ability to carefully manage the internal politics of multiple teams working together for the first time can be tough, but well worth it when you see everything falling into place, and your project finally comes to fruition
Patience and adaptability are critical superpowers for project managers in overcoming disparate expectations and mediating conflict. These enthusiastic problem-solvers will have the skills to discover and implement effective solutions, while also winning the respect of employees and building trust within the team. Negotiation and delegation skills are also critical, and it is important to give teams the autonomy and authority to complete tasks, while simultaneously keeping a careful eye on the progress of each cog in the wheel, being ever-ready to step in as and when required.
Hands-on experience, certifications and industry-recognised qualifications will help impress potential future employers and ensure you stand out from the crowd. They will also give you the tools to understand and leverage the frameworks and methodologies used in the industry. Getting certified can demonstrate that you have the skills and experience required to handle complex projects and the challenges that accompany them, and will prove your commitment to this career path.
Project managers will be the wearer of many hats and be expected to spin many plates simultaneously. Many will share the same traits of being detail-oriented visionaries with a strong work ethic, and by default, they are likely to be incredibly tenacious. At the very least, project managers must excel at planning, monitoring, and reviewing tasks. Being decisive, working well under pressure, and adapting to evolving situations will also help project managers keep a cool head and ensure that the projects they are handling are delivered on time and to budget while meeting everyone's expectations.
Most project managers will naturally develop the above skills as they progress throughout their careers. But even if you are new to project management, there is a good chance you might have been involved in completing project tasks and attending project team meetings. These experiences will have helped you understand how a project works - perhaps without realising it.
From scope management, procurement, and working with stakeholders to resource, risk, or communication management it's a good idea to consider some of the projects you've worked on. What areas have you been involved in? What responsibilities did you have?  Focus on what you already have in your skillset and draw upon your experiences to help you thrive in a project management role.
 
The best project management courses
Assuming you already possess the characteristics and soft skills needed to become a project manager, your next step should be to learn the terminology, skills, frameworks, and methodologies used in the industry. The good news is that there are no prerequisites to begin a journey into project management regardless of your current job position or the industry you are currently working in.
You don't need a university degree, but employers will be looking for qualifications in business project management. PRINCE2 is one of the most attractive qualifications for employers. The structured methodology is used in most businesses for end-to-end project management. The courses begin at the foundation level and take students on a journey through to practitioner and agile levels.
Agile is particularly preferred in the fast-moving world of IT. What makes Agile different from traditional project management approaches? Agile projects fix time, cost, and quality in the early phases while managing contingency through a clear view of priorities in collaboration with the business. Shorter development cycles are referred to as sprints that focus on continuous improvement throughout a product or service development.
If you are interested in becoming an IT project manager, a solid understanding of ITIL® (information technology infrastructure library) will give you the skills and knowledge you need to thrive in the role. The framework provides businesses with a structured approach for delivering IT services that will efficiently enhance their IT strategy. Ultimately, it allows teams to communicate using the same terminology as they navigate the fast pace of technological change while avoiding unnecessary disruption or confusion.
Experienced project managers who already possess the AgilePM® Foundation can also work towards the AgilePM® Practitioner certification. This course helps students apply the underpinning philosophy and principles of DSDM (formally known as Dynamic System Development Method) in a project situation.
Similarly, project managers with a minimum of two years of relevant practical experience in project management can also strengthen their CV with the APM Project Management Qualification (PMQ) Collection. These courses will help you align your project management skills to the APM Body of Knowledge. They give project managers the tools to manage everything from budgeting and costs to conflict, negotiation, procurement, and teamwork.
 
Best project management courses for beginners
The APM Project Fundamentals Qualification (PFQ) is the perfect starting point for those without any project management experience. Upon completing the course, you will have gained a complete awareness of project management terminology, skills, frameworks, methodologies, and communication styles. But most importantly of all, you will be ready to enter the world of project management as a qualified project manager.

The Certified Associate Project Management (CAPM) course will complement your APM certification and will help you further develop and grow your understanding of project management. Once again, if you are considering or have your sights on becoming a non-technical IT project manager, you must consider the ITIL® v4 Foundation to understand IT's role in business strategy and how ITIL® enhances IT service management.
Ultimately, these qualifications ensure that all project managers speak the same language and follow the same way of working. In addition, they unlock the ability for project managers to hit the ground running and deliver a project in any business, department, industry, or location in the world. With globally recognised certifications on your CV, you will be confident in implementing a project in any workplace and have the necessary knowledge to further advance your career.

Why project management is a great career choice
It has been consistently reported that there's a widening gap between the need for effective project managers and the availability of people with the required skill set. The Project Management Institute provided employers a timely reminder that they will need to fill 2.2 million project management roles each year until 2027.
This wake-up call for businesses creates a massive opportunity for anyone to switch to a financially rewarding career and see first-hand how their work makes a difference. Good project managers are invaluable to every business. They will be at the heart of clarifying goals, streamlining processes, and ultimately increasing revenue.
Our online training and support team can provide you with all the relevant skills and certifications to help you play a key role in managing a project from the initial planning stages to implementation. You can learn at your own pace to secure an entry-level position in project support, planning, project administration, or as a project management assistant before progressing into a mid-level or advanced role.
A whole alphabet of project management qualifications such as PMP, PRINCE2, CAPM, ITIL, and PMI-ACP are available to help you further your project management career. Deciding which course is right for you can feel daunting, that's why our career consultants will work with you to understand your goals and aspirations and map out the best path to help you get there
So are you ready to begin your journey into project management? If so, contact us today, and take that first step towards your new lucrative and rewarding career.