Project Management
An FAQ for project management training
We've put together the most common questions our project management career consultants get asked.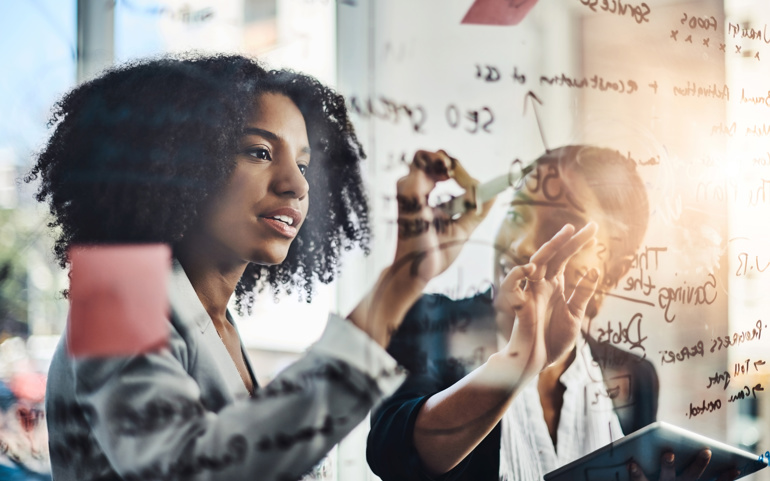 Do I need project management experience for the certifications?

Experience is absolutely not necessary. For people looking to start their career, we have a range of beginner courses that will equip you with the skills employers are looking for. Your career consultant will work closely with you to identify the most suitable certification based on your career plan. 
What you're lacking in experience will be celebrated in your methodology knowledge. Getting certified is a great way to begin your project management career and can be the difference between getting a role or not.

How valuable is a certification, when I already have experience?

Certifications validate your skills. Employers use them as a benchmark when reviewing candidates; it tells them you have the right competency to do the job efficiently. It shows your dedication to your career and increases your earning potential. Not only does it confirm your skill set, it introduces tried and tested processes that lead a project to success. 
How do I know when is the right time to get certified?

To put it simply, there is a high demand for project managers now. This means the quicker you get certified, the quicker to can get on the career ladder.
According to the Project Management Job growth and Talent Gap report, by 2027 employers will need 87.7 million individuals working in project management-oriented roles. By getting certified you're bringing yourself into the demand.
It's important that you do your research to ensure you are making the right decision for your career goals, but don't fall into the trap of putting it off because of peripheral reasons. From our experience, the longer you put it off, the more time is wasted. It's so often we hear people saying they wish they'd started earlier when they see the incredible end result.
So, don't hold yourself back: picture where you want to be in the next 6 or 12 months and go for it.
How do I fit studying around my lifestyle?

Our dedicated StudentCareTM team are experts in putting together study plans for our students. They will discuss the best way to fit in the right amount of hours and how to prioritise it against other commitments. We understand that things can get in the way, but our student support aims to keep you on track. 
Our online training platform, Percipio, puts your learning first. It offers an improved and interactive experience, meaning you have more tools than ever to complete your course. You can access your course content on all iOS and Android smartphones and tablets as well as your computer. It's more portable than ever with the option to download content to view even without an internet connection. 
Can I afford it?

We pride ourselves on offering courses that are great value for money. By taking into consideration your unique skills and background, we will develop a personalised learning path towards your career goals. The prices of these learning paths will therefore vary from person to person. Depending on your circumstances, we offer different payment options to support you in getting certified.
Do you have any student testimonials you can share?
You can find all of our student testimonials here. We love hearing about our students' successes.
Will I get a job at the end of it?

We never guarantee a job at the end of our course, because it takes a collaborative effort between us and yourself. Our certifications are all designed to get you career-ready, using exclusive partners that provide the industry-leading certifications.
However, we do offer unrivalled Career Services to equip you with the tools you need to get into your next role. With consultants on-hand to review your CV, cover letters and LinkedIn profile, and offer unique industry insights into building your network and interview preparation, we boost your employability in your desired industry and will continue to support you until you reach success. All we need from you is the right attitude and motivation.
In project management, there are opportunities in every industry. Whether you are already in the industry and choosing to upskill into project management or entering a new one, gaining a certification will put you on the right path. They are universally recognised, so your opportunities are truly global.
How do you protect your customers?

We are regulated by the Financial Conduct Authority (FCA) and accredited by the Learning Performance Institute (LPI) to ensure we deliver the highest standard of customer experience. Students can be confident that we are a trustworthy and reputable organisation, as we are audited regularly to ensure we adhere to both authorities' codes of practice. 
Our industry-leading certifications are trusted by the likes of HMRC, Honda, BT, VISA, Bupa and many more. 
Let's get started
Career-ready education. Get the skills you need for the career you want.
1
Get in touch
Once you enquire you'll receive a helpful career guide. We'll also arrange your call with an experienced Career Consultant to help you design your personal learning pathway.
2
Explore our student stories
Be inspired by our students' success. Read and listen to their stories to see how students just like you have moved into the career they want and changed their lives.
3
Find out more about the support we offer our students
Our StudentCareTM and Career Services teams are always on hand to support our students. Find out how they can support you from the moment you enrol.
Find out more about student support