Project Management
Make the change with Project Management
The average project manager salary in the UK ranges between £50,000 and £75,000, with most going to college and university. However, the prospect of amassing £45,800 in student debt can be incredibly daunting.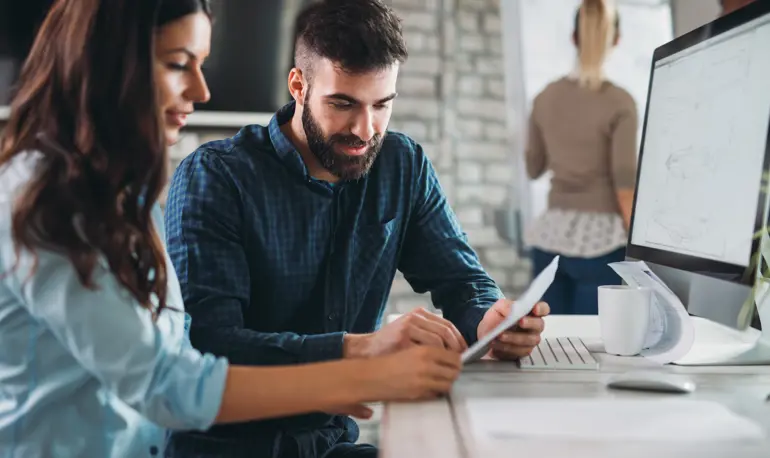 Starting a Career in Project Management
The average project manager salary in the UK ranges between £50,000 and £75,000, and to get there, most follow the crowd in going to college and university. However, the academic route is not suited to every personality type, and the prospect of amassing £45,800 in student debt after graduation can be incredibly daunting. But another option involves trusting your gut and going against the status quo to reach your goal of becoming a project manager. 
A quick look at any job listing website reveals that the most desirable qualifications needed to secure a position in project management include project management courses from PRINCE2®, PMI, ITIL®, and APM. The good news is that you don't need to attend university to learn widely used methodologies for project management. There are alternative ways to validate your skills and become an attractive job candidate for global employers.
The demand for new projects is surpassing the supply of project managers, indicating a potential talent shortage in the field of project management. This highlights the urgent need to develop and attract more skilled project managers to address the skills gap and ensure successful project delivery.  
So, whether you're leaving education or find yourself wanting to change your career, it's never been easier to enter the lucrative world of project management. The big question is, how do you achieve the qualifications employers are looking for? 
How to start out in project management?
Many of our students go on to enjoy successful careers in project management by simply starting a conversation that would lead them to learn the industry skill sets and gain the confidence needed to follow their unique path in life. For example, our StudentCare™ and Career Services teams consist of placing real people by your side every step of your journey with one-to-one personal guidance. This proactive support is not just about helping you achieve certifications but, more importantly, helping you secure the job role of your dreams. 
Why project management is a future-proof career
Project Management is a continuously evolving discipline that requires strong strategic decision-making and team management skills. Projects are becoming more complex, and project managers are expected to stay up to speed with emerging technology trends while navigating increasing regulation and governance or overcoming new challenges. 
However, a more agile approach can achieve a faster time-to-market by 83%. Many of our students choose to carry on learning and access courses such as the PMP or  CAPM, which continue to be a valuable asset to boosting their careers in the workplace. There is also the option to pivot from a project manager role and work towards becoming a business analyst to ensure your skills evolve with your aspirations for the future. 
The university experience typically consists of three years, and you are finished. But we believe the best way to future-proof your career is to remain by your side, helping you learn new skills and gain globally recognised certifications. In addition, we believe that student support is not just about preparing you to enter a role in project management, but we want to help you work towards your next goal. 
How project management caters to all personality types
You might think that learning online will mean missing out on the university experience. But throughout the last two years, the Covid-19 pandemic resulted in closed university campuses and face-to-face teaching shifting to an online format. As a result, many began to question if it offered the same value it once had.
The evolving expectations from students are also driving demand for something more than a one size fits all approach to education. We understand that every student needs a healthy and engaging learning environment suited to their personality and learning style. It needs to be a place where neurodiversity is celebrated rather than feared so that both introverts and extroverts can thrive.
There isn't one ideal personality type for the perfect project manager either. However, you will typically see them honing their communication, critical thinking, time management, and organisation skills. In addition, many enjoy solving problems and have meticulous attention to detail, while others are happier motivating project teams through innovation, creativity, and spreading positivity. But finding the right balance of all these personality traits is the closest you will get to succeeding in project management. 
How to progress quickly as a project manager
Once you are a fully certified project manager, your first goal will be to put everything you have learned into practice and gain experience in the field. Then, as your confidence grows, you will naturally adapt to new ways of working, discover creative ways to solve problems and accept more demanding or complex projects as part of your career development. Finally, as you work towards becoming a senior project manager, there will be other learning opportunities that will open up new career paths. 
Once again, every project manager will follow their unique path. Some will work towards positions such as program or portfolio manager while others will have their sights set on becoming the next head or even director of projects.. There is no glass ceiling for the ambitious, and starting a career in project management and climbing up the ranks has never been easier. 
Starting a career in project management with Learning People
Your journey into project management will begin with a conversation with our Career Consultants. From that moment, you will be faced with many exciting options and the freedom for you to start a career in project management.